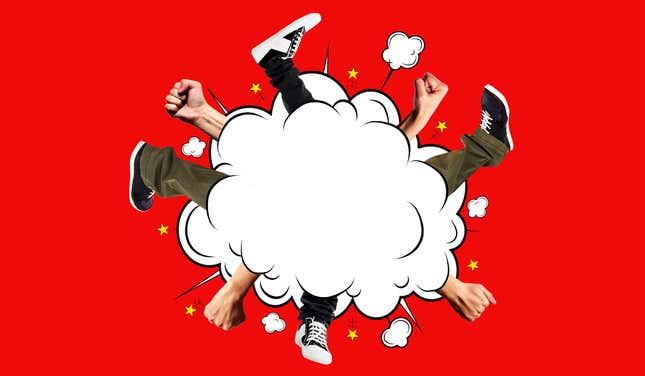 When I was in middle school my class went on an overnight trip to Spanish camp, which I remember vividly for two reasons. First off, I farted so loud in the cabin one night that one of the counselors woke up and yelled at me for farting so loud. Secondly, I got into a fight. Now I use the word "fight" here generously. Every fight I've ever been deserves to be classified as an "altercation" or a "skirmish" or a "pathetic attempt at a throwdown." Anyway, there was this kid Stan (not his real name) who I hated for reasons that now escape me. I'm sure he's a perfectly lovely adult man these days. But back then, I did not like Stan. I think I thought he was a social climber, which is amusing because A) I was ALSO a social climber, and probably just angry that Stan was better at it, and B) "social climber" is such an '80s epithet that it belongs on display in the Smithsonian.

Bass' ERA stinks, but not compared to who he is off the mound | Worst of the Week Countdown
So one day at this camp, I was so mad at Stan for being Stan—like, genuinely and irrationally seething—that I walked up to him from behind and hit him. A cheap shot! DISGUSTING. A true preview of my future career online. Stan turned around and smacked me back and then we fell on the ground, doing that teen thing where you roll around in the dirt like idiots before people break the fight up and you start crying. And when we finally get back on our feet and start sniffing up angry boy snot, Stan raises a finger to me and he goes, "You better watch your back, Magary! Because I got a lot more friends than you, and if it comes to that I'm gonna kick your ass!" I'm not really sure what that means, but he DID have more friends than me, and that was really the main point to get across.
Afterward, half the kids called me a cheap-shot artist (no arguments there), and the other kids told me they hated Stan and that he got what he deserved (probably many arguments to be made there). Again, I cannot think of a more fitting omen for the coming online discourse. If you're hoping karma ever paid me back for that bush league move, please note that a football teammate of mine once jumped me and smashed my head into the floor multiple times. Violence-wise, I have come out more than even in life.
But I am far from the only person here to get into such kerfuffles. Turns out that Deadspin readers and staffers also occasionally struggle with actual human interaction. I'm as shocked as you are. Here now, scavenged from the blood-stained dirt of Twitter, are some of your best worst fight stories.