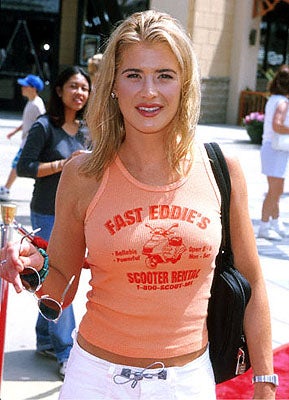 Just in case you haven't heard, Kristy Swanson was arrested Saturday night in Kingston, Ont. after a fight with Marcia O'Brien, who is the ex-wife of Canadian figure skater Lloyd Eisler. Swanson is dating Eisler. People magazine has the details, of course, and says that O'Brien filed a complaint, leading to Swanson turning herself in and posting $500 bond. But Swanson says that it was O'Brien who did the attacking, which would take a lot of guts, because Swanson is, after all, Buffy the Vampire Slayer.
"You threw a knife at my head." "But You caught it." "But you threw a knife at my head!"
"Kristy Swanson was assaulted by Lloyd Eisler's ex wife, Marcia O'Brien, while walking from the passenger seat to give her four month old son a pacifier," stated a release from Michael Sands, spokesperson for Kristy Swanson and Lloyd Eisler.
Oh, and the kid's name? Magnus. And suddenly Tonya Harding, a fat hit guy and a metal pipe seem so childish.
Kristy Swanson Arrested Over Spat With Eisler's Ex [CTV, via Fark]