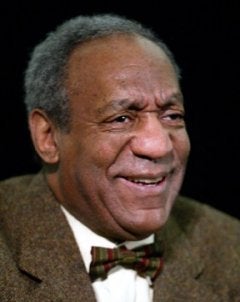 The Temple Owls aren't having much of a year, so Bill Cosby's got some time on his hands. And what better way to fill that time than becoming a dog show person? The Cos has an entry in the upcoming Westminster Dog Show ... not just any entry, but a favorite to win. Bill Cosby is the anti-Ron Artest.
"The dog breeders and owners are like parents who have kids in soccer games, swim meets, ice skating, etc.," [Cosby] said. "Only the breeders are better behaved. They are proud of their 'kids' and want to see them do well. The breeders arrange the marriages that produce the pups and raise them. The owners pay for the uniforms, the referees, the coaches and the tournament fees."
I love Bill Cosby... but I'm sorry, that's just weird. I guess old age does funny things to people... one day, he's molding Theo and Cockroach into men, the next, he's one of these dog show people. I'd have expected that out of Sandra and Elvin, maybe... but not Bill.
And this may seem a little bit off the beaten path, but take a guess at how much I can bench press. Come on, take a guess. Take a guess. Three-hundred and fifteen pounds, maxing out at 400.