Yesterday, Andrei Kirilenko announced his retirement from basketball. He'd spent the last few months playing in Russia, after being traded to Philadelphia but refusing to report earlier this season. Over the last few years, Kirilenko had become a sort of NBA background character, more notable for the litany of weird shit he got into than for playing in meaningful NBA games. After all, the guy with the best nickname in the league also just happened to be the one with the one-night hall pass, the full-back World of Warcraft tattoo, the back-room Russian contract, the business-end of the most pants-shitting dunk since MJ, the haircut. He's been a piece of furniture for the last six or seven years now. But for a while there, he was one of the most thrilling players in the league, and it's a damn shame we didn't see more of him.

Unlike your standard NBA counterfactual centerfold, Kirilenko didn't blow into town a decade too soon like Yao or Brad Miller or Marbury. He wasn't ahead of his time; just a little bit ahead of Jerry Sloan and the slab-o'-rock-salt picture of a power forward down around Utah. Andrei's best years came at small forward, but he always looked most natural as the deep-lying monster playing the 4, patrolling the rim and running the wheels off of the poor big-man remnants of 90s ball. By the time he was a full-time starter in 03-04, the jetstreams that regulate structure in the NBA were already set into the patterns that would blow Shawn Marion and Lamar Odom up the Western Conference's ass for the next decade, and which have carried all 6-foot-5 of Draymond Green into the Finals as the starting power forward of the liveliest upstart in a decade. The "stretch 4" is the common parlance today, but the league's positional roles weren't shot up by stretch 4s—they got run up on by killer fours who were equal parts wingspan, lateral quicks, and fuck you.
AK-47 was one of those dudes. He ran his own breaks, drove and dunked on suckers' heads, put four blocks on Kobe in one game, and at any given moment was liable to chuck a no-look between-the-legs pass pretty enough to unpucker Sloan like a tablespoon of Metamucil. He should have been terrorizing offenses that whole decade, helping from suicidally deep positions, or switching onto point guards on pick-and-rolls then devouring them whole.
Instead, the Jazz spent the next half-dozen years cramming Kirilenko into lineups as the small forward, playing with Carlos Boozer and Memo Okur, or later Paul Millsap and Kosta Koufos. In some ways this was Jerry Sloan in retrograde as flashier, mustachioed planets whipped by. But the thing is, this was a progressive lineup, in its way. The thinking in Utah at the time—as I assume it went in Detroit this last year—was that height is still the most perfunctory advantage in the sport, and if you can overload the court with it by finding tall-ass, lanky-ass players to cover ground, having huge players at every position will grind teams into traction. That's why players like Odom or Boris Diaw began their careers as gigantic misfits at wrong positions before sliding down to their natural roles; Giannis playing point guard and Draymond playing center make equal amounts of sense. Sloan thought he'd stumbled upon an extreme variable and had gumption enough to plug it in; whatever Deron-to-AK47 YouTube clips he let die in the cradle didn't matter because Jerry Sloan runs the Flex, teaches fundamentals, and calls the remote the clicker.
On the stat sheet, it didn't matter. Kirilenko was an all-court destroyer from his rookie season, and by his third year in the league, he averaged 16.5 points, 8.1 rebounds, 3.1 assists, 2.8 blocks, and 1.9 steals in 37 minutes. His PER that year, in the time of PER's rise to prominence, was just ahead of Dirk Nowitzki's (Dirk was in his sixth season). His signature 2K achievement was notching a 5-5-5-5-5 in one game, and one year, putting up a quadruple double, which I remember thinking was some real live bullshit considering LeBron's was a regular old triple-double and hard enough to do as LeBron.
Today, Kirilenko would be a more terrifying Kawhi Leonard with very bad hair. He'd be the biggest star in the league putting up fewer than 20 a game. He'd be a bigger, better, better-dressed Paul George. But back then, playing for Sloan, things always seemed to go sideways on him. After his breakout 2003-04 season, the same year Steve Nash and the Suns ushered in the stylistic turnaround he was born for, Kirilenko missed almost half the season to injury. A few years later, his role behind Okur and Boozer—probably the least imaginative front court to crack a conference finals in my lifetime, and definitely the one most resembling the security detail at an Offspring concert—had shrunk to the point that he actually cried on the bench because of his minutes. It seemed like a shame at the time; we all waited for him to find a spot holding down another team, away from Jerry—somewhere he could jam no-look bounce passes through traffic without getting pulled and run free out on the weakside, where he belonged. It never did happen.

G/O Media may get a commission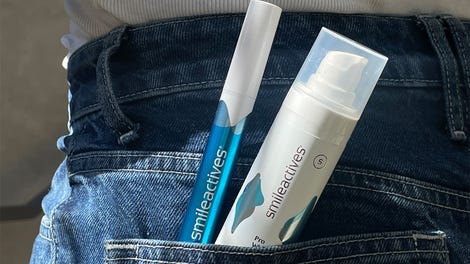 58% off
Whitening Powerhouse Pen & Gel Duo
During the 2011 lockout season, Kirilenko up and went back to Russia to play for CSKA Moscow, where he'd played as a teenager. He returned to play for the Timberwolves in 2012, before opting out of a large deal to play for much less money in Brooklyn, for the Russian billion mob associate with the Djokovic haircut. Then he was traded to the Sixers, and wanting absolutely no part of that disaster, went back for one last crack at Russia. I don't know that any of the broad strokes in his career materially change if Sloan slides Andrei down to the 4 and lets him and Deron run wild (outside of the crying, at least); maybe he'd be sad, earthbound Gerald Wallace by now. But a few years of AK-47 running out in space, blocking turnaround jumpers like Anthony Davis and facing up the Zach Randolphs of the world would have made it go down easier.