Andrew Wiggins scored 41 points in a furious comeback for Kansas that came up just short. He also had eight rebounds, five steals, four blocks and two assists. The Jayhawks freshman was pretty much unstoppable against the Mountaineers, who watched a 25 point lead dissolve into a 92-86 nailbiter win at home.
Wiggins also shot 15-19 from the free-throw line and scored 14 straight for Kansas at one point.
His effortlessness in switching from defense to offense is most impressive. The dunk above was an easy (soaring, beautiful) transition dunk not just because of his offensive skill; he made the block on defense and sprinted up court to receive the pass from his teammate. And here, he creates a turnover by pressuring the inbounder and spins around for an easy, yet vicious, dunk and is right back in the same defensive position. Ready to try again.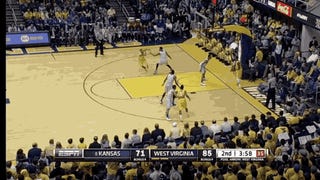 Wiggins scored his last basket with 3:09 left in the game to cut the lead to 10. Kansas would get within five points with 1:20 left in the game, but that was as close as they got. One minute later, still down five, Wiggins fouled out and West Virginia fans could breathe easy.
[ESPN]