Hey, remember when Mississippi's basketball coach got drunk and (allegedly) hate-crimed a hapless Cincinnati cab driver? That was fun. But now we can relive that wonderful evening thanks to police car camera footage!
If you'll recall, Queen City police first met Andy Kennedy after he and some buddies—including the Ole Miss director of operations—got thrown out of a bar on December 18th. Shortly after that, Kennedy hailed a cab and asked the driver to pick up his friends. The cabbie claims that when he refused, Kennedy threw a punch and a series of racial slurs in his direction. (I believe he is an Arab gentleman, so you can imagine how that went.) That's when the cops showed up to capture Kennedy begging for his famous life.
"I'm here for the Big East SEC challenge," Kennedy was heard saying on the video, WLWT reports. "I'm playing Louisville and Rick Pitino tomorrow. I was the UC head coach. I am going to be on national television. If I'm not standing there at 9 p.m. tomorrow, this is an international altercation."
Did you hear that? He knows Rick Pitino! Kennedy continued with his entreaties, trying to convince the officer that such a public spectacle would shine an unflattering light on the SEC, the United Nations, and the City of Cincinnati. It's safe to say the officer was not impressed.
"You think we've never arrested somebody that's made national media? …We deal with the Bengals all the time."
G/O Media may get a commission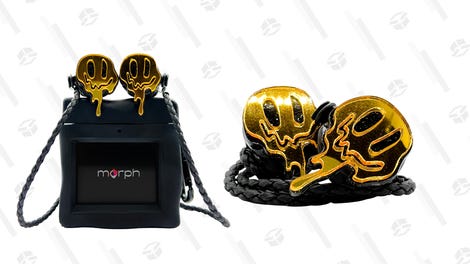 morph audio
Morph Earphones
Whoa. That guy deserves a medal.
Exclusive: Police Video Released In Andy Kennedy Arrest [WLWT]