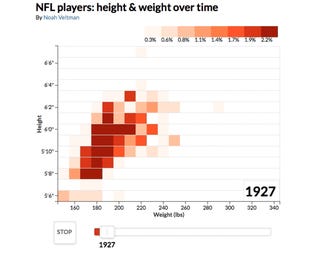 We know that NFL players have gotten bigger, and that it's a relatively recent phenomenon. But this animated tool by Noah Veltman (GIF above) is the coolest way we've seen to watch how it happened over the years.
Pay special attention to the group of linemen that breaks off from the pack in the 90s. It happens in a flash in the GIF, but you can go through and drag the slider year-by-year at Veltman's site. Players had already gotten pretty tall, but that's when lineman weight exploded and the 300 pounds stopped being special.
Update: Oh hey, we've written about these before. We have a GIF now, though. Whatever.
[Noah Veltman via FastCo Design]