It was a great day for the "Super Bowl of Surfing." Maybe not such a great day for fans watching from the beach, when a rogue wave knocked them off their feet, injuring 13.
Mavericks, south of San Francisco, is one of the best surfing spots in the continental 48, thanks to a unique sea floor that funnels the wavebreak into a 50-foot wavefront. The waves were among the biggest ever for the Mavericks Surf Contest yesterday, so much so that the surfers voted early in the morning whether it was too dangerous to hold the contest. Not all of them voted yes.
But a majority did, and fans came expecting to see some spectacular wipeouts. Ooh boy, did they ever. At high tide, a series of waves crashed ashore, sweeping people into the water, and breaking quite a few bones. Check the video footage here.
Crazy. Spectators are only supposed to be injured by the sport entering the viewing area in the NBA.
One wave knocked down Betsy Foreman, 48, of Ukiah, and broke her ankle. She had been part of the way up a hillside, but had come down and was walking away from the water at the urging of deputies.
"The wave knocked us down and washed people on top of us," said Foreman's fiancé, Dan Quarles. He added, "You take your chances."

Mary Gram, 51, of San Rafael, appeared to have a broken or dislocated middle finger on her right hand. As she waited for medical attention, she said, "I guess I'm lucky. But I lost my iPhone."
G/O Media may get a commission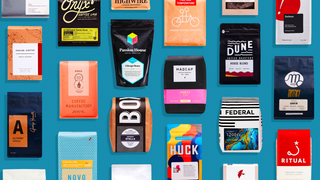 Get $25 free
Trade Coffee - National Coffee Day
I love that she was clearly more upset about losing her iPhone than the guy above her was about nearly losing his fiancée. Keep your bummers in perspective, dude.
Huge waves at Mavericks injure spectators [SF Chronicle]