The Chicago Blackhawks on Wednesday made a moderately sized trade splash, acquiring forward Anthony Duclair from the Arizona Coyotes along with defenseman Adam Clendening for forwards Richard Panik and Laurent Dauphin. It sets up the Blackhawks in a number of ways—they get younger, and they clear cap space ahead of next month's trade deadline—but much will depend on the big question that's been hovering for going on three years now, with no answer in sight: Can Duclair, talented and confusing as he is, ever achieve what just about everyone in hockey thinks he's capable of?
Duclair, a Rangers draft pick in 2013 who was shipped to Arizona in the Keith Yandle trade, is a skilled, speedy left winger who is just 22 years old and already has folks discussing wasted potential. He's had trouble staying on the ice, earning a worrying number of healthy scratches even since last year's ominous AHL demotion. When he is playing, he's averaged just 13:27 of ice time this season, and the production's just not there. He's got nine goals and six assists in 33 games; last season, he had five goals and 10 assists in 58 games.
There's always been talk of off-ice issues surrounding Duclair, but they've always been nebulous to the point where it's hard to know how seriously to take them. And the dissatisfaction has gone both ways: Duclair reportedly requested a trade last week.
Coyotes GM John Chayka revealed the team has been shopping Duclair for two seasons, and noted that it goes beyond his play.
"It's gone back for a few years now," Chayka said, "where the team wasn't particularly happy with the player and the player wasn't particularly happy with the team."

[...]

"There are a lot of things that go into a trade," Chayka said. "Some of them are readily apparent. You see Anthony play and his speed and skill is obvious to everyone. There's some things that I think should stay behind closed doors."
G/O Media may get a commission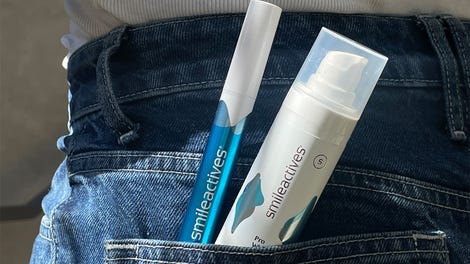 58% off
Whitening Powerhouse Pen & Gel Duo
Duclair should have a better chance of succeeding in Chicago, especially if he can crack their top six. And top-six contributions would be sorely welcome there, because the Blackhawks are scuffling: they're currently two points out of the second wild card, and their nine-year playoff streak is very much in jeopardy.
Richard Panik has been one of the poster boys for this year's disappointment, amassing just 16 points in 37 games—his goal two days ago was his first since October—along with five healthy scratches. Panik had 44 points in 2016-17, and signed a two-year, $5.6 million contract that GM Stan Bowman quickly came to regret. But Bowman was able to unload it, giving Chicago about $2.8 million in cap space ahead of the Feb. 26 deadline, should the Blackhawks decide to make a move to make a run at the postseason. So it's a good move, even if Duclair (who carries at $1.2 million cap hit and will be a free agent this summer) doesn't work out.
And if he does, he could be a very important piece going forward, as Chicago tries to remake itself on the fly. Bowman noted yesterday that the Blackhawks have 13 players on the roster under age 26, compared to four a year ago at this time. That youth and quickness, embodied by Duclair when he's at his best, is suited to the pace of the sport these days.
"The game today is about speed and about being able to pressure the puck," Bowman said. "In a matter of a year, we've been able to get considerably younger, but we're still a team that wants to win. We're not playing for the future. The game today really is predicted on being able to skate. It's really hard to play if you don't have the quickness and the speed."
Bowman, impelled by cap considerations into making creative moves for years now, knows he can't give this team a full tear-down, not in the limited years Jonathan Toews and Patrick Kane have of their primes. So that's meant attempting to get younger and cheaper without giving up on a season. Acquiring Duclair is more of the same, but it's a particularly low-risk, high-reward move for a team in desperate need of a kick in the pants.