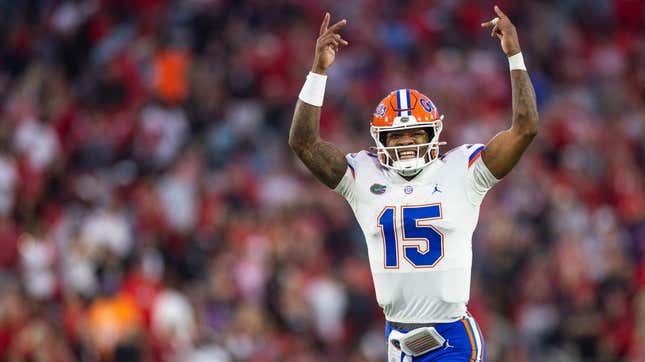 It seems like with every mock draft, pundits' opinions of certain prospects change. For practically the entirety of the 2022 NFL and college football seasons, the consensus top-three quarterbacks in the 2023 class were Alabama's Bryce Young, Kentucky's Will Levis, and Ohio State's C.J. Stroud. Florida's Anthony Richardson was projected by some to be an early first-round draft pick prior to the 2022 season, but Richardson didn't take the monumental leap that many analysts assumed he would. He'd fallen out of favor with draft media, and was just a mere projected mid-first-round pick. Slowly but surely though, as more and more people watched Richardson's film, the trust began growing again. In the past few months, Richardson has gone from the fourth-best quarterback to a possible top-ten pick and now finally, he's come full circle, with some people projecting him to go first overall.
Should the NFL adopt a draft lottery? | Agree to Disagree
Of course, this opinion, courtesy of Chris Trapasso with CBS Sports comes with a few stipulations. He believes the Indianapolis Colts will trade up for the first overall pick and select Richardson. He also believes this prediction will become more mainstream after Richardson "blows the roof off Lucas Oil Stadium at the combine." And frankly, I don't disagree with that assessment — the latter one, I should be clear. While I doubt the Texans will pass up on the opportunity to give new head coach DeMeco Ryans the quarterback of his choosing, I don't think Richardson is off the table for them just yet.
The more I've read and watched about Richardson, the more I've taken to the possibility of him being taken first overall. His athleticism, upper body strength (displayed best while throwing on the run), and quick release all more than make up for his poor field vision and indecisiveness in my opinion, especially considering that a good NFL system wouldn't force Richardson to make multiple reads and quick decisions. Ryans, hailing from the Kyle Shanahan coaching tree, might be a likely candidate to adopt such a system. Also, even if Ryans' offensive scheme doesn't support such a quarterback, those flaws can be ironed out as Richardson gains more experience and confidence, which he desperately needs.
Still, despite his incredible tools, there will obviously be some skeptics, unsure of someone who shot up to the top of draft boards so quickly. Fans have been burned by guys like Zach Wilson far too often to not be skeptical. That said, I find Richardson's argument much more acceptable than people had for guys like Wilson. Most importantly, Wilson didn't have the kind of athleticism that Richardson has. Even if Richardson doesn't develop his accuracy, mechanics, or decision-making at all, he'd still be a potent offensive weapon because of his ability to run. His pro comparison is Cam Newton for goodness sake. Regardless of his ability to throw, Newton was still a formidable opponent due to the threat of his legs. Richardson, at the very least, could provide value in that department.
Furthermore, where Wilson blew everyone's mind was during his Pro Day, surrounded by people he was familiar with in a space he knew well, Richardson will have an opportunity to impress at an official NFL Combine — which Wilson never had the opportunity to do thanks to the COVID-19 pandemic. Richardson will endure the standard tests that Wilson never did, and even though Wilson's pro day was put on a national stage, Richardson will be in a much more hostile environment. If he "blows the roof off" in that situation, he should get the praise that Trapasso expresses.
Of course, this pick would be risky. No one is denying that. Richardson is a pretty green prospect, and knowing so little about a prospect can be scary. Look no further than the man San Francisco traded three first-round picks to get, Trey Lance. Very little was known about him, but the 49ers took their shot and it hasn't panned out so far. I'm not saying Lance is a bust, but clearly, people have been unhappy with how that pick has turned out two years later. There's a guaranteed layup waiting at the first overall pick with Bryce Young. No one will throw their arms in the air in contempt for such a decision.
Maybe that's enough to keep the Texans and Colts away from Richardson. Both teams have GMs — Nick Caserio and Chris Ballard — whose seats are warming up heading into 2023. At the same time, the Colts have tried playing it safe at the quarterback position for years. They opted for veteran quarterbacks Philip Rivers, Carson Wentz, and Matt Ryan each of the last three seasons. They knew everything there was to know for those three and look how that turned out. Maybe the risk on such an inexperienced prospect is exactly what Ballard needs to turn that franchise around. If they were going to do it with anybody, why not the guy so many people have warmed up to recently? Why not the guy that was a projected early-round pick prior to the season? Why not the guy with so many athletic tools he's virtually the opposite of 37-year-old Matt Ryan and 39-year-old Philip Rivers? I'm not saying he should go first overall, but I get why people are considering it, and if you ask me, they should've been considering it much sooner.