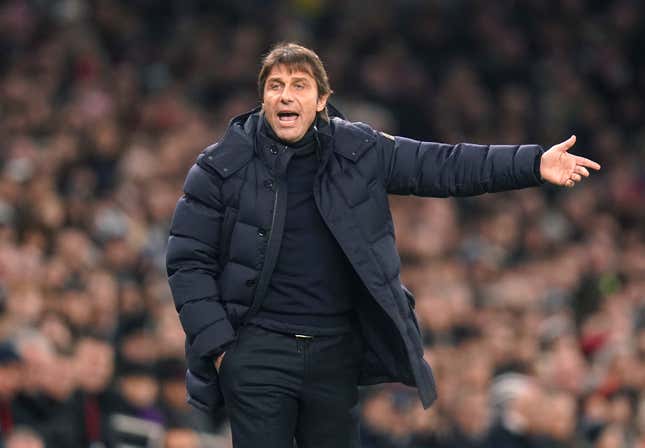 It only takes a matter of hours after becoming a soccer fan to hear the term, "Spursy." It only takes a couple more after that to completely understand that. It refers to Tottenham Hotspur and that no matter the situation, or the seeming unlikeliness, something weird will happen to the club, and in a bad way. While the truth is almost certainly some calculable combination of bad management from the top, a lack of a long-term plan, being just a touch less rich than their rivals, with a dash of some bad luck, the overall feeling that something hangs over the club that will always result in a balls-up is inescapable. They are the Premier League's Jets, or Maple Leafs, where something ineffable must be overcome, even though that nebulous force has become so pungent and strong that the task is impossible.
Can Liverpool Win The Quadruple? | What You Need To Know | FA Cup
Yesterday was one of the most Spursy days on record in recent history. Tottenham managed to toss away a two-goal lead in the last 13 minutes away to Southampton, the worst team in the league. Sure, the equalizer came from a pretty damn dubious penalty, but Spurs fans are so beaten down by…being Spurs fans that that kind of thing just seems like the price of admission.
That result alone would have been weird enough for the North London club, but this is Tottenham Hotspur, where they can always pour more confounding mishegas on top of the bedrock of confounding mishegas the club is apparently built on. Enter manager Antonio Conte, with a press conference that torched his own players, and his bosses, and acted as a large neon sign flashing, "PLEASE FIRE ME!" that was also on fire.
The best part of this has to be when Conte exclaims, "I'm very upset!" Oh you don't say?
It's also important to remember that Conte is such a level-headed sort that he authored my favorite soccer clip of all time during the 2016 Euros:
Does Conte have a point? Probably, yes. Spurs are 15 years without any trophy, depending on how much stock you put in the League Cup. They haven't won the FA Cup in 32 years, and let's not even wade into their last league title. Chairman Daniel Levy has been in charge for 22 years, and it's a pretty barren 22 years for a club that sees itself on the same level with neighbors Arsenal, if not the rest of the league's giants. And Levy's reign has been chaotic at times, hiring managers at a rate that would spin a revolving door off the hinges.
But Spurs have also hit their greatest recent heights under Levy, and perhaps more poignantly to every Spurs supporter, manager Mauricio Pochettino. They made a Champions League final, the club's first, and contended for a couple of league titles without winning them. Pochettino's Tottenham ran off 3rd, 2nd, and 3rd place finishes from 2016-2018, the best run by far that Spurs have ever managed in the Premier League.
Levy's greatest mistake was firing Pochettino instead of funding the squad overhaul that Pochettino told him was necessary, and one Levy ended up funding anyway to please subsequent managers Jose Mourinho and Conte. But Mourinho and Conte are never, ever part of a long-term vision, given the way they quickly flameout, or straight up nuke, their surroundings after a season or two.
The perfect symmetry to all this is that the ghost of Pochettino has hung in the background all season, as he has been heavily rumored to be the one who's going to replace Conte whenever the Italian packs up his bags (though honestly, it sure has felt like Conte has had his bags packed for a while now). But it's another example of the scattergun planning that Levy's Tottenham have never been able to get out of.
The Conte M.O.
On the flip side, this is what Conte does. At Juventus, at Chelsea, at Inter, and now Spurs, he engineers an immediate bounce in results, performance, and optimism, and then he firebombs his own work the following season, usually bitching about a lack of support in transfers or influence or both. The dude just can't sit still.
And Conte would have a hard time arguing he hasn't been supported by Levy. Spurs brought in Richarlison, Christian Romero, Yves Bissouma, Ivan Perišić, Clément Lenglet in the summer, and Pedro Porro and Arnaut Danjuma in the January window. Of all of them, only Romero and Perišić have featured regularly, though some of that is due to injury. But some of it is not, as Richarlison was only too happy to point out when Spurs limply exited the Champions League to a far-from-impressive AC Milan. That's some $215 million in expenditure on Conte's behalf, and that's a touch more than the change found in the couch cushions.
And it's hard to put the blame anywhere other than Conte for how often Spurs look bland and lethargic on the field. He can pillory his players in the press all he likes, and he apparently likes it a lot, but it's kind of in his job description to generate passion and desire within his squad. Seeing as how he's been making goo-goo eyes at the exit door for most of the season, it's not all that shocking that his players aren't exactly feeling it week in and week out.
One wonders if Pochettino could save this if he is indeed to make a glorious return, no matter how much goodwill and leeway the fans will give him. Of Tottenham's leading players by minutes this season, only Romero and Dejan Kulusevski aren't either over or about to be over 30 years old. It's a mystery how much more patience Harry Kane has for this horseshit (though let's all pray that Man United decide to shell out big for him for his declining years instead of Victor Osimhen, who has inhaled and spit back out Serie A for Napoli this year and is six years younger). The squad may need another overhaul after the overhaul they engineered after telling Pochettino they wouldn't let him overhaul the squad.
Spursy.