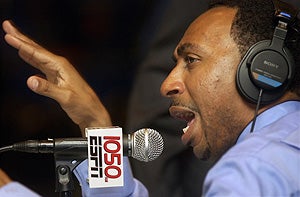 Stephen A. is taping a new show on Wednesday, Angelenos, so if you're free, print out your free tickets from this link and report back to us with your findings. Press release and more details after the jump.
Here is the email:
Free tickets are now available to see the first taping of the Stephen A, the new show talk show hosted by Stephen A Smith!

You hear and see him every day on sports radio and television and now you can see him in person for ONE DAY ONLY. A leader in sports journalism and one of the most popular voices on ESPN, Stephen is taping a new talk show this Wednesday, October 27th. In his new show, Stephen will use sports (and his insider status in the Sports world) as a trigger point and go anywhere from there, exploring larger themes such as Race, Sex, and Fame.

This is a one day only opportunity to be part of the intimate studio audience and see the inner workings of a high energy talk show. There will be celebrity guests, sports stars and of course Stephen A. himself. All tickets are free. Please use the following link below to print out your ticket vouchers:
http://www.on-camera-audiences.com/shows/show/315…

Thank you and we hope to see you in the audience!
The show is called Stephen A.! That's fun. This is where it'll be. We know someone out there will heed the call.
Four Seasons Hotel/Studio
Two Dole Drive
Westlake Village, California, U.S.A. 91362

Walk to the audience entrance at the guard Gate to The Four Season Hotel/Studio at the corner of La Tienda and Via Rocas on the southwest
side of the property.
H/T Martin.