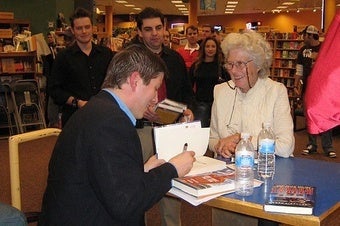 The last time I did one of those book tour things, it was a massive endeavor that took years off my life. We're dialing it a bit back this time. (Oh, yeah, this book.)
The main reason this is smaller scale this time is because right in the middle of the "tour," I'm getting married. (Yes, after Daulerio's attempt to kill me this weekend, the wedding is still on. So we're still probably going to add some dates. If you run a bookstore (or even a bar with plenty of space and access to Mobile Libris, you should email the very nice publicist lady about setting something up. But for now, here's where this is going to start out.
May 13
St. Louis (with Bernie Miklasz)
Left Bank Books
321 N 10th Street
Saint Louis, Missouri 63101
http://www.left-bank.com/
7 p.m.
May 28
Chicago
The Book Cellar
4736 N. Lincoln Ave.
Chicago, IL 60625
http://www.bookcellarinc.com/
7 p.m.
June 15
Manhattan, New York (with Sam Walker)
Barnes & Noble, Upper East Side
150 East 86th Street
New York, NY 10028
7 p.m.
June 17
Madison, Conn. (with Noah Finz)
RJ Julia
768 Boston Post Rd
Madison Center, CT 06443
http://www.rjjulia.com/
7 p.m.
June 24
Boston
Barnes and Noble, Boston University
660 Beacon Street
Boston, MA 02215-2066
7 p.m.
July 1
Brooklyn, New York
Varsity Letters Reading Series
JLA Studios (Official site, map)
63 Pearl St (between Water St. and Front St.)
Brooklyn, NY 11201
Next to the F train. Close to the A,C. Accessible by the 2,3.
7 p.m.
That's the skeleton for now. Hope to see you there, and remember, if you want more, here's the pitch. That is all. Hi.