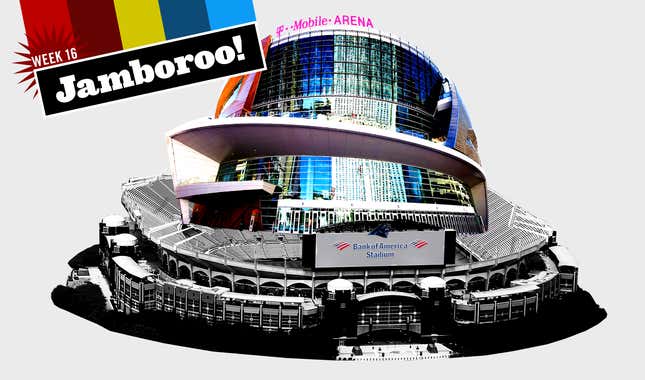 Drew Magary's Thursday Afternoon NFL Dick Joke Jamboroo runs every Thursday during the NFL season. Email Drew here. Buy his book here. 
Aaron Rodgers should go full Joe Namath | Comedian Bert Kreischer
Jerry Richardson just horndogged his way out of owning the Panthers, and whatever crooked old fart the NFL chooses to replace him will likely be paying north of $2 billion for one of the NFL's more tenuous stadium situations. The Panthers' home stadium was built right before the luxury stadium boom and thus, along with other contemporary shitholes like the Skins' stadium, does not include the requisite luxury condos and aquaparks and Tesla dealerships needed to satisfy an NFL owner's hunger for a robust profit margin.
Despite Richardson squeezing the city of Charlotte (among other things) in order to get publicly funded upgrades, and despite speculation that he won't sell to someone who would dare move the team, the current terms of the Panthers lease allow them to leave as soon as 2019 with only a small penalty fee attached. Presumably, new ownership will first shoot for a stadium like JerryWorld or the Falcons' new digs, and they'll roll out a very thick binder explaining how such a luxe edifice could "stimulate" the local economy by attracting football fans and Star Trek conventions. LOOGIT THE FANCY ESCALATORS!
You already know that these economics are bunk. But if you want a real sense of how large of an albatross a new football stadium is to a city, just look at all the free time on the schedule over at the Vikings' new stadium. After the Vikings playoff run is over and Minnesota hosts its second (and last) Super Bowl, their bird genocide chamber will spend the first half of 2018 hosting a home and remodeling show, an RV show, a monster truck jam, and a Kenny Chesney concert. That's about it. In general, we're talking about a facility that will house roughly two public events a month at most. In between those is a great yawning void.
And despite also being home to the Atlanta United FC, the Falcons new stadium isn't much busier once bowl season is over. There simply aren't a lot of everyday uses for a place that has 70,000 seats. These buildings will be empty on far more days than they are full, reliant on football and the occasional big-ticket neutral-site sporting event that passes through about as often as a comet. In fact, it probably benefits NFL owners to have their places used less frequently because the overhead and labor needed to stage any ancillary event is overwhelming. Their uselessness is profound, especially compared to a more vital, much more affordable civic structure: the arena.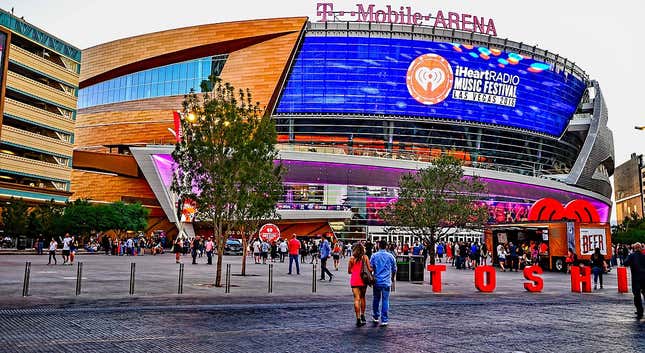 That's the new arena in Vegas, which cost $375 million and was funded entirely by private developers. That venue landed Vegas an NHL team and already has over three dozen events on the schedule for the first quarter of 2018 alone. Because arenas are a much more manageable size, they're able to operate on a near-nightly basis. Take it from someone who took their kid to a gymnastics expo at the Wizards' home joint: On any given night, there is something happening at your city's arena. Plunk one in the center of a town and it really does give off electric vibes.
And I am all for happenings, even when they are relentlessly dumb. I'm drawn to a happening like Sleeping Beauty to the spinning wheel. There is an inherent joy in the forming of a crowd, of people gathering mass numbers to enjoy something together. That's what NFL teams sell cities when they whip out a rendering of people surfing outside a stadium. They are selling you a hub of communal activity and business. But the reality is that football stadiums are dormant for the bulk of their existence. They create dead zones in the landscape. Arenas are the real gathering place, and they cost a fraction of what NFL owners demand.
In fact, that low cost often helps eliminate demands for public funding altogether. Earlier this month the city of Seattle approved a $660 million plan to renovate Key Arena, which will almost certainly net the city an NHL team and, messy politics pending, perhaps a reborn Seattle Supersonics NBA team in the distant future. Now, there are some murky tax credits yet to be fleshed out in that plan, but the bulk of that $660 million would appear (famous last words) to be privately sourced, and is three times greater than the original $220 million that the state of Washington refused to gift then-Sonics owner and colossal shitbag Clay Bennett when he wanted to renovate the same building. By spurning Bennett and letting the Sonics walk, Seattle may end up in a much better spot than they ever would have if they had caved on that initial $220 million demand, and they'll have a fancy building to show for it—one that may truly, actually spur business in the surrounding areas, as NFL teams falsely promise time and again.
I'm well aware that arenas remain prone to rich guy chicanery. Outside of Vegas, the NHL has been particularly nasty when it comes to strong-arming cities for them. Gary Bettman failed to get the city of Calgary to pony up a whopping $1 billion for a new arena for the Flames, and he has not been shy about openly threatening the city as a result. The Ottawa Senators have started making similar complaints (FUN FACT: Owner Eugene Melnyk may move the team despite being getting a donated liver FROM a Senators fan), and the New York Islanders are fleeing a new arena in Brooklyn to go play in a new place near Belmont Park. But if a city is gonna let itself get ripped off, the value is clear:
1. Arena
2. Ballpark
3. Football stadium
We are entering an age of horrific corruption, and so I have accepted the fact that living in a fraud-free America is a hilarious pipe dream. All I can do is hope for the least of all corruptions, and pray that a bare scrap of public good accidentally comes out of it. If you are some ambitious dickbag city councilman looking to make his name for himself, an arena should be your priority when it comes to getting worked over. Arenas are good. Stadiums are crap. And the city of Charlotte should steel itself for a new conman arriving and arguing otherwise.
The Games
All games in the Jamboroo are evaluated for sheer watchability on a scale of 1 to 5 Throwgasms. 

 Five Throwgasms
Falcons at Saints: Mike Francesa left WFAN last week and the Internet has a bizarre soft spot for him, given what a vainglorious, arrogant asshole Mike Francesa is:
I grew up with Francesa too, you know. The signal from 660 reached all the way to my folks' house 150 miles away, and I would tune in during the summer commuting back and forth from my job running tables and setting up wedding banquets. Francesa was an asshole then, and he's an even bigger asshole now. That cute New Yorker story about him and the Mad Dog watching The Horse Whisperer together doesn't exactly make up for all the times Francesa bragged about not caring about gay players, or stuck his nose up Bill Parcells's ass, or hung up on callers who dared to point out his mistakes.
Like Rush Limbaugh, Francesa is a talented and occasionally engaging broadcaster who has virtually NO other redeeming qualities as a human being. Yet somehow, he found a way to con people into thinking his worst traits were somehow endearing. The reality is he's a doddering old fool and no amount of EPIC Mets rants are gonna gloss that over. Fuck him and his big dumb veneers. I hope he gets nail fungus.
Four Throwgasms
Bills at Patriots: Hey, are you aware that Bobby Kraft's favorite band is gonna get inducted into the Rock & Roll Hall of Fame this spring?
Listen man, I already know that the Rock Hall is complete fucking joke whose honorees are determined mostly by whether or not they've shared a villa in Mustique with Jann Wenner, but it's still a hilarious outrage that Bon Jovi somehow lobbied their way in. I say this as someone who unabashedly enjoyed some of their '80s work. That was all cheesy good fun, but have you HEARD latter day Bon Jovi? Bon Jovi has spent the past two decades making music to play over the loudspeakers at A.C. Moore.
In other Patriots news, I am one of the last people on Earth to realize Tom Brady is bald. I guess I should have realized it the first time I saw him on the sideline with his helmet off and the top of his head looked like a drain clog.
Rams at Titans

Three Throwgasms 
Jaguars at Niners: Blake Bortles only became a punchline after a mediocre 2016 season and a rocky patch this offseason. But before that, he was easily one of the most promising passers in football, and now his numbers are back up to where they were in 2015. Why, it's almost as if he was always capable, but something happened during that bad stretch that clearly affected his on-field play and no one is saying what!
Seahawks at Cowboys: It's Christmas special season and if you have Netflix or Amazon Prime you know that there are a LOT of off-brand Christmas specials lingering the bowels of every studio's archives. For example, did you know there's a SECOND Frosty the Snowman special? And it isn't narrated by Jimmy Durante (HA CHA CHA-CHA!), but by Burt Reynolds?
This is so fucking weird. I do not like knowing this exists.

Two Throwgasms
Steelers at Texans: I hate the current catch rule as much as you do (and have offered an easy solution to it because I am nothing if not PROACTIVE), but I will also say that the NFL desperately needed a game as weird as Pats-Steelers to go down. It wasn't that long ago that I could count on at least one NFL game a week ending with some sort of inexplicable ruling or massive coaching boner. Those games are a blast to bitch about. Like, the Fail Mary game sucked. But Fail Mary Twitter was HEAVEN. It was fantastic Twitter. I am at the point with the NFL where a tainted outcome is the BEST outcome I can hope for as a viewer. I already know I'm probably not getting a masterpiece, so I'll gladly take any game ending on a ref missing a call because he was busy farting instead. My standards are EXTREMELY low right now.
By the way, super triple ultra fuck Big Ben. Even with half these teams quarterbacked by one-armed lepers, I will be elated when he's finally out of the league. He's a shitty teammate and an even shittier person and WHY THE FUCK DID YOU THROW THAT BALL YOU BIG STUPID MORON?! Big Ben needs to leave my consciousness forever and go spend his retirement tripping over cow patties.
Raiders at Eagles: I don't really understand how anyone could be angry at Gene Steratore for whipping out an index card to check a measurement. That's damn resourceful of him and I salute his ingenuity when it comes to fussing over the nose of a football. I hope he pulls out a jeweler's eyepiece for his next little stunt.
Vikings at Packers: I know that Harrison Smith will almost certainly make the Pro Bowl as an alternate once half the league drops out, but there is still the barest ember of childish fanboy in me that feels true OUTRAGE whenever one of my favorite players is snubbed for the Pro Bowl or Hall of Fame. I spend all year being like, "Pfft, the Pro Bowl sucks," and then the rosters come out and I'm like NO HARRISON SMITH? WHOSE FACE DO I NEED TO SMASH? BEST SAFETY IN THE FUCKING GAME!
Chargers at Jets
Dolphins at Chiefs
Bucs at Panthers

One Throwgasm
Colts at Ravens: Baseball writer Tim Kurkjian had a book come out last year and I'm sure it's very good and that Tim is, by all accounts, a super guy. But look at this cover: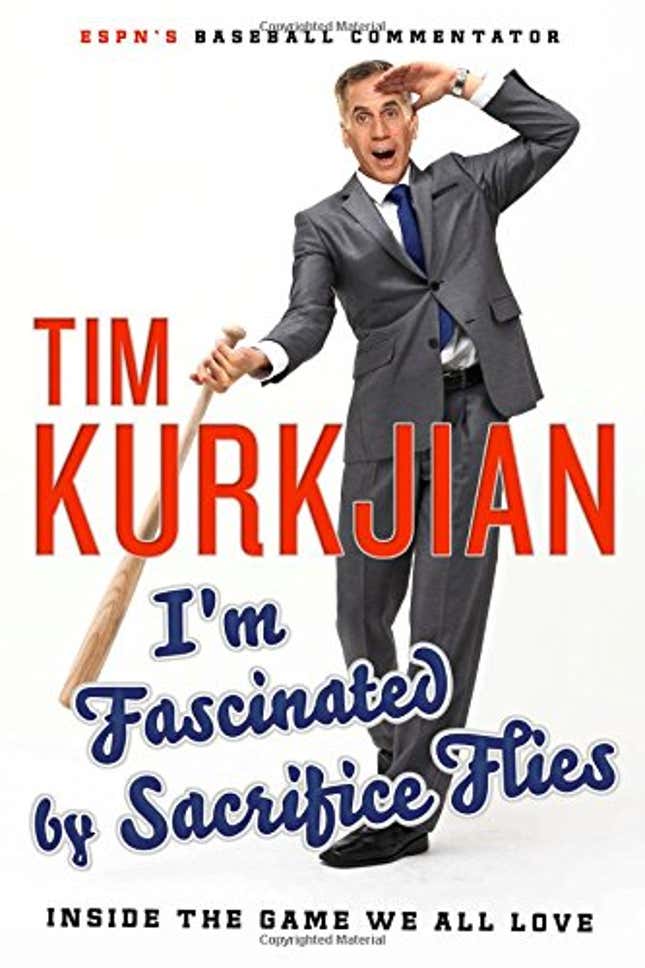 This is not an anomaly. I feel like virtually every sports book cover ever designed was designed in 1988. If you have ever dished out an anthology of your hottest, most provincial sports takes, there is vomit of horrific fonts and awkward photography awaiting you. Like this Tony Kornheiser book. And this one. And this one from Whitlock. And this one from Bill Conlin, who turned out to be a monster. I am fascinated by all these terrible sports book covers. It's like they were all specifically designed to be used as props in a Will Ferrell comedy. Good thing all my sports book covers are GOLD.
Lions at Bengals: Our own Diana Moskovitz used to work at NFL Network and this week she wrote about her time there. The whole thing is well worth reading but I just wanna point out this passage:
When Goodell and his entire group left, a group of us converged on the big conference room in which they had been served a catered lunch. We found it piled high with uneaten food and grabbed it, like scavengers.
HOLY SHIT HE DID IT AGAIN! What on Earth is it with Roger Goodell and depriving people of food?! Does he HATE food? Did some stern housemadam force-feed him castor oil as a sour child? Did he resolve to never let anyone enjoy food again after that? Because that's my theory and I'll gladly stick to it in the face of contradictory evidence. This man is a food monster. He'd starve your grandma, he would!
Browns at Bears: PROGRAMMING NOTE: I'm out next week. Your Jamboroo guest host is, as always, site founder Will Leitch. Leitch, seen here showering, will be around to break down all the games and cram in needless St Louis Cardinals takes where he sees fit. I am more or less powerless to stop him when it comes to the latter, since he does this job for free every year. He also usually skips the poop story, so if you're jonesing for funny poop stories next week, you will probably have to shit your pants. It's the only way.
Broncos at Skins
Giants at Cardinals
Pregame Song That Makes Me Want To Run Through A Goddamn Brick Wall
"Safari Song," by Greta Van Fleet! Submitted by Jeremy:
Once you get over or succumb to the Led Zeppelin pastiche they've got going on it's easy to get carried away by this song. Just wait for the breakdown towards the end. Also, these guys are all like 19.
Not bad! I could see myself getting into these guys for about as long as I got into Wolfmother, so roughly 10 minutes.
Gregg Easterbrook Memorial Haughty Dipshit Of The Week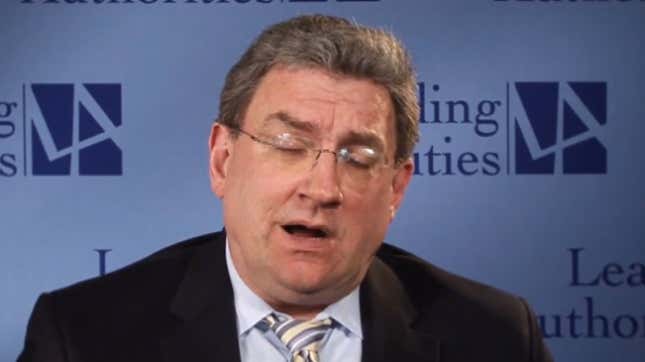 If it's the end of the year, that means it's time for Pitchfork's 50 best albums of the year, which almost always consist of 49 artists I've never heard of, plus Kendrick Lamar. Is the copy so insanely pretentious and ANGULAR that you can't even fathom someone writing with a straight face?
Yaeji contains multitudes.
Why, yes. Yes, my friends.
On Rocket, the singer-songwriter formerly known as Alex G employs lovingly recorded violin and piano on tender, country-leaning jaunts.
Okay, why did he add the "(Sandy)" to his name? Was there another artisanal fiddler named Alex G who was there first? If you'll excuse me, I have decided to change my pen name to [Horny] Drew Mmmmm.
Dust is Laurel Halo's loosest offering yet, orbiting out from its oddball-pop epicenters to the point of near-chaos.
STOP THIS ODDBALL POP I WANNA GET OFF BEFORE IT EXPLODES!
The producer's music has always been exploratory, knitting together synth-pop, Detroit techno, and jazz with a singular, continuous voice, and that process feels particularly gleeful here.
Finally, someone knit together synth-pop, Detroit techno, and jazz, and they were NOT a downer about it.
Throughout the glassy, gossamer soul of Moses Sumney's debut album, the 26-year-old finds new ways to talk about loneliness, romance at a distance, the ability to "behold and not be held."
He sounds like a real blast at parties. Would it kill Pitchfork to listen to some Metallica once in a while?
Rex Ryan's Lock Of The Week: Raiders +9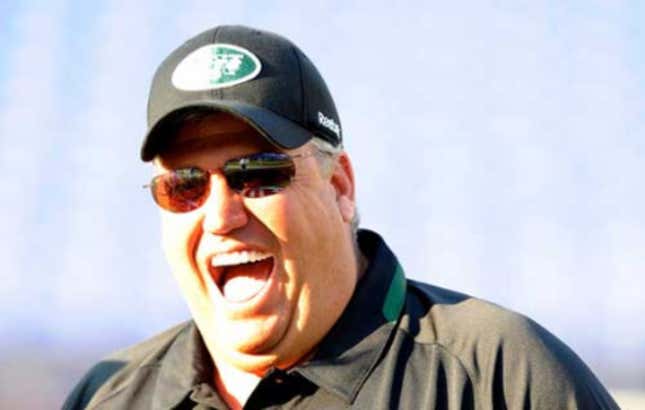 [storms into locker room in Santa suit]
"Gentlemen… all I want for Christmas… IS A GODDAMN WIN. You hear me?! I don't want toys because toys are for pant-shittin' babies! I don't want video games because video games are for pimply nerds! The only gift I ever want is for you to go out there and MURDER the other team! Everything else I need I can buy myself: steak, ribs, footrubs, big fucking trucks, pantyhose to wear on my head when I'm feeling frisky… I DON'T CHRISTMAS FOR ANY OF THAT SHIT! I want DEATH! I dyed this suit with reindeer blood!"
Ryan 2017 record: 10-5
CANNIBAL CORPSE SONG FOR THE HOLIDAYS!
"Heads Shoveled Off," by Cannibal Corpse! Yes, if it's Christmastime, that means it's time to check in with Buffalo's foremost purveyors of snuff porn metal. Let's take a gander at the lyrics!
Eyes wide open
As they see the shovel
Coming at them slowly
Blood spurts through the air
Head detaches from the body
The eyes can still see but
The brain starts to die rapidly

Back in Nam he killed a man
Many more would die
Shovels used to cut their heads off
Now forever changed lust to decapitate
Chop at the neck to keep the skull intact
Warms my heart just reading it. Folks, this is the band that Christmas NEEDS in 2017. By the way, this song comes from a new album that Cannibal Corpse released just this year. How is it different from the other Cannibal Corpse albums? Only Lucifer himself can parse such mysteries. I wonder if they could toss a Baptist hymn into one of these records without anyone noticing.
Fantasy Player Who Deserves To Die A Slow, Painful Death
Amari Cooper, who should really have this section permanently named after him after the year he's had. I know he didn't play against Kansas City, but no one would have noticed if he suited up anyway because Cooper has had five games this season where he caught two balls or less and amassed fewer than 10 goddamn yards receiving. I don't care if he's had lingering injuries. If you're gonna drag yourself out onto that field with half a lung, I still expect you to PRODUCE. No excuses. If I'm hard on Amari it's because I CARE so damn much. NOW STEP IT THE FUCK UP.
Fire This Asshole!
Is there anything more exciting than a coach losing his job? All year long, we'll keep track of which coaches will almost certainly get fired at year's end or sooner. And now, your potential 2017 chopping block:
Ben McAdoo-FIRED!!!
Marvin Lewis-PURSUING OTHER OPPORTUNITIES!
Jerry Richardson-FORCED OUT!
Chuck Pagano***
John Fox
Hue Jackson
Jay Gruden
Jim Caldwell
Todd Bowles
Vance Joseph
Mike McCarthy
Bruce Arians
Bill O'Brien
Jack Del Rio
Dirk Koetter
(*-potential midseason firing)
I know he's probably gonna survive because he made a coordinator walk the plank, but there is really no excuse for the Raiders to be this fucking bad under Jack Del Rio. You might think they're struggling because Derek Carr is having an off year, but no. No, turns out his numbers aren't that far off from his promising work in 2015 and 2016, even with Cooper falling off a cliff. Three of their O-linemen made the Pro Bowl (not necessarily deserved but still). Khalil Mack still exists. And yet, they suck ass. That's on Eddie Money. Why, it's almost as if packing up for Vegas has exerted a psychological toll on this franchise that they don't care to acknowledge.
Great Moments In Poop History
Reader David sends in this story I call APOOPALYPTO:
About 10 years ago I was on a trip to Peru, which included a visit to Machu Picchu. To get there my group hiked through the Andes on the Inca Trail, which takes about four days. I had been having some major intestinal issues earlier in the trip, so I was extremely worried how this would turn out. After taking a major dose of Peruvian antibiotics I had procured at a pharmacy where I couldn't really understand them (don't ever do this), I was able to make it through the first 3 days unscathed thanks to antibiotic-induced constipation. On the 4th day we left camp before dawn for an hour hike with 50 other people that ended at the site. I was congratulating myself for having made it, when about 20 minutes in Montezuma's revenge returned, the likes of which I had never experienced. The problem was that the trail was basically a sheer wall to the left and a cliff to the right, so there was absolutely nowhere to go.

I immediately began to panic, and a few minutes later I was in agony and a full-on sweat. I was almost in tears as I started to decide whether I was just going to unload in my pants or go in the middle of the trail as 40 people passed me in disgust while I quietly sobbed. Miraculously I was able to summon the strength of 10 men and vice grip my butt cheeks for the final 40 minutes of the hike. The trail ends on a mountainside landing a couple hundred feet above Machu Picchu called the Sun Gate, where everyone watches the sun rise over the Andes. It's supposed to be extremely majestic and a highlight of the trip. As the 50 people all stood at the edge looking in awe as the sun began to rise, I absolutely could not take it anymore. I ran behind a tiny tree about 20 feet from the group (as far as I could go) and released 4 days of pent up Peruvian food in the most satisfying moment of my life. Despite my proximity to 50 other people, I don't think anyone turned around to witness the carnage. I completely missed the sunrise, but whatever, those are a dime a dozen.
International poop stories and military poop stories remain undefeated, gang.
Gametime Snack Of The Week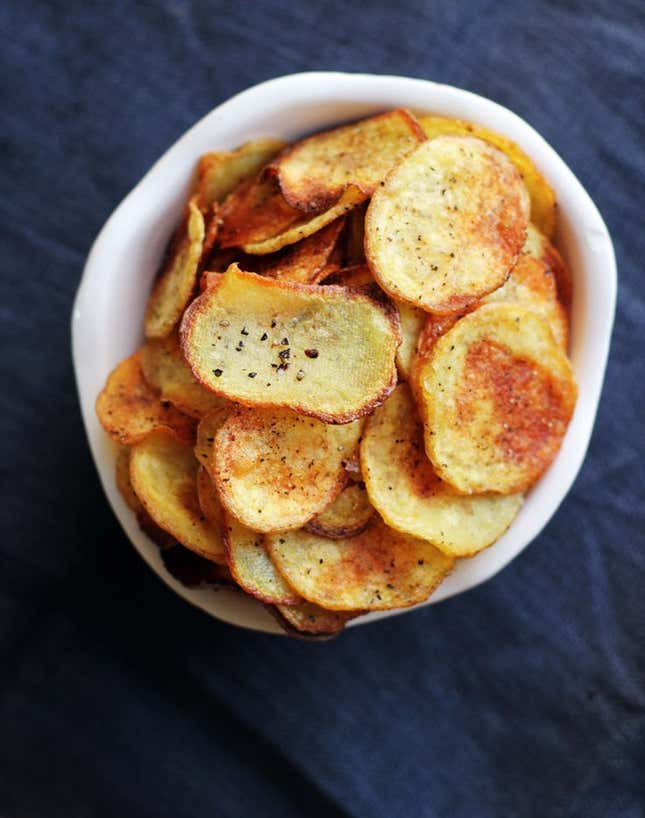 Salt and pepper chips! I should not be blown away by the flavor of salt and pepper snacks like these chips and salt and pepper pistachios. And yet, whenever I have them I'm like MY GOD THIS REALLY DOES TASTE LIKE SALT AND PEPPER! UNCANNY! I think I am under-peppering the rest of my food. Tell me something has "Cracked" pepper in it and I got hog wild even though all pepper is cracked.
Gametime Cheap Beer Of The Week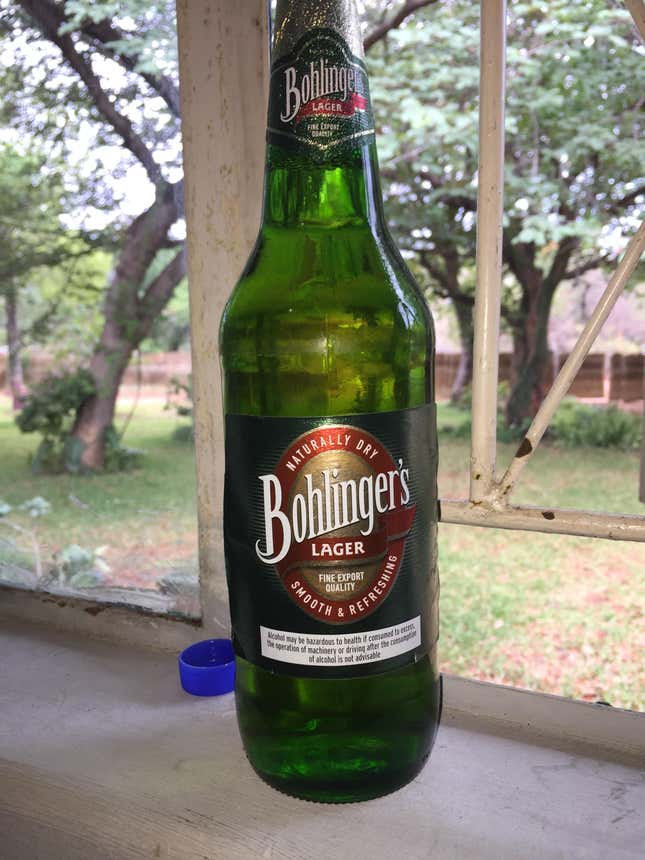 Bohlinger's Lager! Move over, National Bohemian, there's another terrible Boh on the block! From Chris:
When I was in Zimbabwe I was able to imbibe Bohlinger's Lager, a beverage so fine it has exactly the type of aftertaste you'd expect from a country with one of the world's longest reigning dictators. A 24-ounce bottle set me back a dollar or so, and it wasn't as bad as some of that country's other beer options.
I'm sold by the label. "Naturally dry"? Count me in. I'm sick of all these artificially dry beers. I MUST HAVE IT.
Jim Tomsula's Lifehack Of The Week!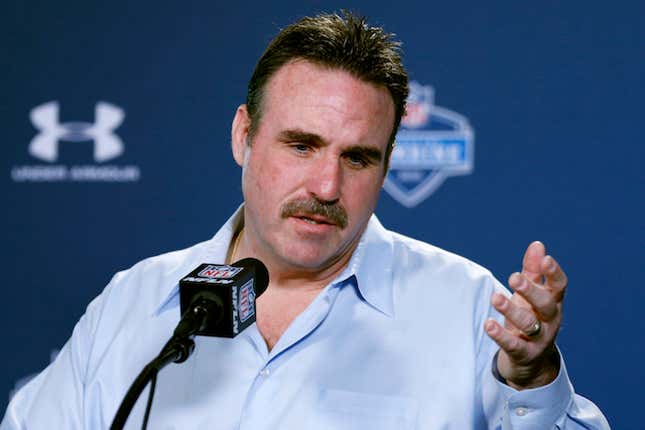 "Aliens? Okay, that's old news. You got some wire and foil, you're gonna hear from some aliens, okay? Tuscaloosa Jim once slipped into a power station and slipped a burrito wrapper around one of the transformers and he heard all kinds of crazy blips and beeps comin' from the saucers and what not, okay? He burned to death six seconds later but before that, we heard 'em. You think those little fellas don't know when you get an x-ray? They're everywhere. There's little ones in your milk, too. They know uh, the frequencies and what not. You spend a week in a landfill and nothing surprises you, not in this world or any other."
Sunday Afternoon Movie Of The Week For Browns Fans 
Blade Runner 2049, a fascination examination of both reality and identity and what it means to WHOA HOLY SHIT LOOGIT THE FLYING CARS! Honestly, this movie could have been in Aramaic and I wouldn't have given a shit because it looks so fantastic. The only bad parts of this movie come when Jared Leto parachutes in from a different, worse movie… one where he was apparently allowed to write his own dialogue. It's a very special moment when an actor lives up to every last joke made at his expense.
Gratuitous Simpsons Quote
"The circumference of the well is 34 inches, so, unfortunately, not one member of our city's police force is slender enough to rescue the boy."
Enjoy the games, everyone. MERRY CHRISTMAS!