Arizona downed then-No. 3 UCLA 96-85 Saturday evening, handing the Bruins their second loss of the season and further cementing the Wildcats' place among college basketball's fluid and fun-as-hell top-10. Sean Miller's squad has spent all season building its case as a legitimate Final Four team (as have 10 or so other teams); Saturday's win ranks as its current high-water mark.

It's no secret the Bruins are a team built to bury the opposition via a barrage of three-pointers. They average 25.4 long range attempts per game, good for 22nd in the nation. The team's sole loss came on a last-second trey from Oregon's Dillon Brooks, and UCLA still scored 87 and shot 11-of-25 from deep in that game. With Bryce Alford, Isaac Hamilton, and Lonzo Ball all taking at least 5.6 treys per night, and freshman forward T.J. Leaf popping out double-doubles down low, the Bruins have hung around the top of college basketball by way of openly displaying few offensive weaknesses.
During Saturday's game in L.A., the Wildcats created a weakness for the Bruins with heavy doses of stifling perimeter defense. The Bruins shot 31 (!) three-pointers in 40 minutes; they made only 10. Aaron Holiday, Hamilton, and Alford combined to shoot 6-of-19 from downtown; Ball shot 4-of-8 from behind-the-arc and 6-of-7 inside it (he's just really fucking good).
The Wildcats managed this thanks in large part to their stud-filled backcourt of Kobi Simmons, Kadeem Allen, Rawle Alkins, and Allonzo Trier.
G/O Media may get a commission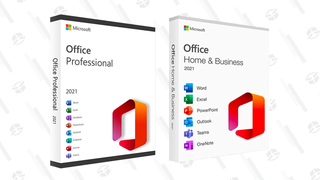 89% off
Microsoft Office Professional 2021 Lifetime License
(As was revealed last week, Trier was serving a suspension for having unknowingly taken PEDs over the summer, reportedly following a car crash. Despite the fact that Trier successfully appealed his suspension by proving he didn't intentionally ingest a banned substance, the NCAA still forced him to sit out until the drug was completely out of his system. The story on Trier's suspension broke Wednesday; in a convenient turn of events, Trier suited up for the first time all season Saturday.)
In his return, Trier showed exactly why he was thought to be one of the nation's most talented guards, pouring in 12 points, seven rebounds, and four assists in 27 minutes. It would've been nice to see Arizona at full strength all season and not have a star player held in limbo by the NCAA, but the Wildcats are 18-2 and now have Trier back in the mix.
As a unit, the Arizona guards harassed the Bruins anytime they got close to the line and converted their attempts on the other end, opting for easier chances close to the rim. The Wildcat guards shot 44 percent from the field, with the team as a whole only attempting 20 treys compared to 48 shots inside the line. The focus on establishing its interior offense allowed Arizona to also rely on a steady flow of free throws throughout the contest—the visiting Wildcats finished 19-of-21 from the line while UCLA converted 11 of its 14 attempts.
While the guard play pushed Arizona over the edge, up among the trees, Lauri Markkanen—a seven-foot freshman forward who might qualify as the most complete mismatch in college basketball—dominated once again for the Wildcats.

Guarded by a fellow rookie in Leaf, Markkanen contributed 18 points with a garden-variety set of offensive moves. He shot 3-of-4 from long range (both set shot and off pick-and-pops), took the UCLA freshman to the basket off a pump fake, and crashed the offensive boards to finish an old-fashioned three-point play with a two-handed dunk, because, if you forgot, he's seven feet tall.

Really, this man might be the most impressive player in college basketball, and that could've been said well before Saturday's win. He's hauling down 7.4 rebounds and shooting exactly 50 percent from downtown while attempting 4.8 threes per game, pushing his scoring average to 17.1 points. Markkanen can be a bit heavy-footed on defense and rack up fouls as a result (he's registered a trio of four-foul games in just seven Pac-12 match ups), but he played well against Leaf, holding him to 12 points and three boards.
The seven-foot Fin has already been subject to lazy comparisons holding him next to every tall, long-range capable Euro big man, from Dirk to Kristaps; given how he's played this year, he'll have to get used to it come draft time.
It should be emphasized that as great as Arizona played on offense, the Bruins defense is truly hapless. And to an extent, I get it! When a squad is taking 64 shots and scoring 92 points per game, it's impossible not to expect some teams to take the challenge and press down on the gas pedal. But the Bruins are playing themselves if they think they're going to make a serious tourney run without making some changes—15 of UCLA's first 21 opponents topped 70 points; nine topped 80.
Case in point: when a truly complete team like Arizona comes along with a backcourt full of guards capable of going for 20 and shutting opposing guards down; a seven-footer that can shoot 75 percent from downtown and another in Dusan Ristic that holds down the paint; a defensive mastermind of a coach with a scheme that allows the best three-point shooting team in the nation to take 31 treys and prevent said team from keeping up down the stretch, well, you're fucked. Come March, a lot of teams in Arizona's bracket might be fucked.