Last night's eight-out save by Aroldis Chapman featured the Cuban closer throwing 42 pitches to preserve the Cubs' one-run lead to send the World Series back to Cleveland for a Game 6. At times, I was convinced that I would grow old and die before Chapman left the mound.
The full agony of the exercise was on display in the top of the eighth, when it took Chapman only 20 pitches to get three outs, but the inning dragged out to nearly 18 minutes partially thanks to catcher Willson Contreras's compulsive need to consult with his closer.
Chapman forgot to cover the base and gave up a one-out hit in the eighth to Rajai Davis, which brought Jason Kipnis to the plate. It took about eight minutes for Chapman to throw a total of six pitches that resulted in a flyout.
Here's how that at-bat played out (follow along with the video above):

1:20: Chapman prepares to throw his first pitch to Kipnis.

1:27: Chapman reaches for the mound and steps out of the stretch.

1:47: Pickoff attempt.

2:07: Pickoff attempt.

2:38: Contreras comes out for a mound visit.

3:17: Chapman throws his first pitch to Kipnis, a 100 mph fastball outside.

3:36: Pickoff attempt.

4:12: Chapman throws 98 mph outside, Contreras unsuccessfully attempts to throw out Davis as he steals second.

4:55: Chapman winds up in the stretch, steps off the mound as Davis moves to get a big lead to third.

5:19: Chapman again jumps out of the stretch to attempt to pick off Davis at second.

5:25: Mound conference with Chapman, Javier Baez, and Willson Contreras.

6:05: Chapman throws a 99 mph fastball outside for a swinging strike.

6:56: Chapman throws a 100 mph fastball outside for another swinging strike

7:30: Chapman winds up, Baez signals to him as he looks back, Contreras comes out for a mound visit.

8:02: Chapman throws a 102 mph fastball outside for a ball.

8:30: Kipnis flies out to Ben Zobrist.

Davis eventually did steal third following a coaching visit to the mound, but Francisco Lindor struck out looking to end the inning.
The result of this tedium for the Cubs was another chance to claim their first World Series championship since 1908. The result for the fans watching at home was a gnashing of teeth and pulling of hair as the game started and stopped and took approximately one goat's lifetime between each goddamn pitch.
Obviously this is the World Series and obviously every pitch means the difference between one more game and starting the offseason, but this is the type of pace that is alienating to casual fans. This is the type of strategizing that is essential on baseball's biggest stage, but feels like pure hell to watch.
G/O Media may get a commission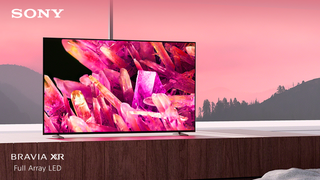 $400 off
Sony 55 Inch 4K Ultra HD TV X90K Series
That half-inning alone might justify Rob Manfred's pace-of-play initiatives. The Commissioner, who is understandably stoked as hell about the historic World Series and the ratings that come with it, must have been ready to march onto the field himself and yell, "JUST GET ON WITH IT, GUYS." Here, here.