Tiger Woods was asleep at the wheel with his car running and his right blinker flashing when stopped by police, according to Palm Beach County court records first obtained by the Palm Beach Post.
The full documents can be read below.
Woods, 41, was arrested and charged with DUI on Monday morning in Jupiter, Fla. He blew a 0.00 on a breathlyzer test, which concords with Woods's statement last night that "alcohol was not involved." Instead, Woods had blamed "an unexpected reaction to prescription medications."
Woods told officers that he was taking four medications, listed here as "soloxex," "vicodin," "torix" and "viox," but noted that he hadn't taken the last this year. (Vicodin is a painkiller; Torix and Vioxx are anti-inflammatories, though Vioxx was withdrawn from the market in 2004.)
Woods was also cited for improper stopping, standing or parking in an illegal place. According to the records, which include a probable cause affidavit filled out by the arresting officer, Jupiter police came across Woods's 2015 Mercedes-Benz to find Woods buckled into the driver's seat with the car running and the brake lights on.
G/O Media may get a commission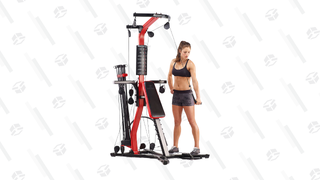 31% Off
Bowflex PR3000 Home Gym
According to the affidavit, Woods told officers he was coming from golfing in Los Angeles, and then said he did not know where he was. He then allegedly asked the arresting officer how far from his house he was, though the officer notes that Woods was driving in the opposite direction from his home.

Woods failed a series of sobriety tests, according to the affidavit.
Woods agreed to submit to a breathalyzer test, which showed no presence of alcohol, and a urine sample. The testing facility task report describes Woods as cooperative, though notes that his speech was "sluggish, very slurred" and that he was "extremely sleepy," "hard to keep eyes open," and "unable to walk alone."
Woods has an arraignment hearing scheduled for July 5, according to the records.
The documents obtained by the Palm Beach Post are below: