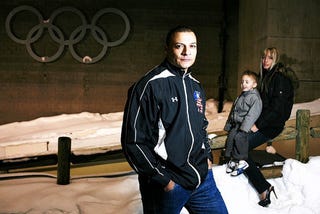 American bobsledder Bill Schuffenhauer was arrested, after allegedly assaulting his fiancée. It's another sad episode in the life of a man who always seems to find trouble.
Though scheduled to race tomorrow in the 4-man bobsleigh, that is in doubt after Schuffenhauer was detained and released late Wednesday night following an incident at his accommodations in Whistler. It's not the first time he's run afoul of the law, in a life filled with setbacks.
Schuffenhauer grew up on the streets of Salt Lake City, sometimes literally. His parents were drug addicts, and he drifted from foster home to foster home, with intermittent bouts of homelessness. He had his run-ins with the law, stealing to buy food, he says.
He overcame a lot to become a nationally ranked decathalete at Weber State University, and eventually made the switch to bobsleigh. As pushman, he won a silver medal at the 2002 Games, and became a local hero.
That's when he met Ruthann Savage. The two moved in together in 2004, and things went downward quickly. Bobsleigh isn't a lucrative sport, and Savage had to support the two on her nurse's salary. After the Torino games, Schuffenhauer quit bobsledding and became a salesmen for Wells Fargo. But he soon got the itch to compete again, at precisely the wrong time.
He quit his job in 2008, planning to rejoin the US team and resume his part-time job with Home Depot's Olympic program. But because of the economy, Home Depot did away with the program. Savage's savings were gone, and credit cards maxed out. The two lost their home.
The two, with Schuffenhauer's young son, moved into a small apartment in Ogden. But the money problems persisted. He couldn't afford a ring when he proposed to Savage, three months ago. And he didn't have the money to fly them in to watch him compete.
That's why it was so heartwarming when sponsor Proctor & Gamble surprised him by bringing Savage and 4-year-old Corben to Vancouver this week.
Like some kind of Greek tragedy, his life story makes his arrest for assault all the more heartbreaking. Bobsledders don't get famous; it's just not that kind of a sport. But someone whose backstory we should have all known is now going to have his face in the papers for all the wrong reasons.
U.S. Olympic athlete arrested after alleged assault in Whistler [The Province]
Utah bobsledder gets Olympic surprise - his family [Salt Lake Tribune]
Bobsledder Bill Schuffenhauer goes from life of street crime to shot at Olympic gold [The Survivors Club]