Meet "Troopz," aka The Arsenal Trooper, aka (as his Twitter bio puts it) "Mr Blud/Fam," aka the loudest, demandingest, angriest, most exuberant, all-around best Arsenal fan. He is, for once, very happy with his station in life as a Gunner today. He has good reason to be.
First, a little about Troopz. Troopz is one of the star characters in the thriving world of Premier League Youtube fan channels. Most of the big EPL teams have dedicated fan-run channels where a host travels to the stadiums on game days and mingles with the people before and afterward, reporting on the fan base's collective spirit from right there on the front lines.
Troopz is a diehard Arsenal fan. Thus, he regularly appears on ArsenalFanTV, the dedicated channel for Gooners. Troopz shows up to all the games, both home and away, and at this point has become basically a must-interview in the aftermath of every match, such is the bluster and passion and forcefulness behind all of his takes on the club.
Like most every Arsenal fan, Troopz exists in a state of near-constant agitation. Because Arsenal are always a very good team for whom the transcendent, title-winning level of greatness remains tantalizingly out of reach just a fingertip away, Troopz, like most every Arsenal fan, is generally upset about something or other, even on otherwise good days. Arsenal can handily beat a good team like Watford, and Troopz will still go on about Theo Walcott's wastefulness. Arsenal can fight back and earn a creditable draw away to PSG, and Troopz won't be satisfied with the team selection. Arsenal can smash a lower-league team in the League Cup, and Troopz will have his mind firmly set on how the team might slip on the potential banana peel on the road ahead.
What people really turn to Troopz for, though, are his volcanic eruptions after bad games. When Arsenal come away from a match with a negative result, Troopz spews forth rage and vitriol in every direction—at the manager, the players, the club's hierarchy, etc.. His fiery remarks are always liberally peppered with his favorite slang terms: fam, blood, yeah?, you understand?, and so on. The 4-3 loss against Liverpool to kick off the season remains his magnum opus:
There are certain days, however, where the stars align at the Earth tilts at that special angle along its axis and the universe smiles upon Arsenal. The team looks amazing—better than even its most strident critics could've asked for. The assembled world-class talent hits on all cylinders and, what's more, manager Arsène Wenger for once fits all the pieces around them in a way that makes the sum greater than its parts.
G/O Media may get a commission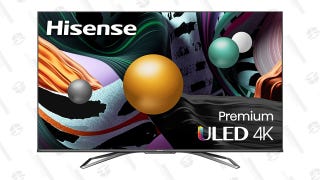 Save $350
Hisense ULED 65" Android 4K HDR Smart TV
On those days, there are few things better than being an Arsenal fan, finally—cautiously, but finally—seeing enough positive portents to hold out hope for the idea that this year just might be The Year. When the team plays like it does on those rare and glorious occasions, there honestly are only two or three teams in the world who could deny them. This was the case during Arsenal's comprehensive 3-0 beatdown of Chelsea this weekend, and there's no better evidence for how great a feeling it is to watch it than the elated Troopz and his fellow Gooners in the video up top.
Arsenal truly manhandled Chelsea, particularly in the decisive first half during which they scored all their goals. Alexis Sánchez, Mesut Özil, and Walcott each scored a beautiful goal apiece, and they very easily could've added more with a little better decision-making. And while everyone knows how talented Arsenal are in attack, the defense too was well-protected by the midfield's pressing, thus patching over what is traditionally the team's weak point. It was a glimpse of what Arsenal can be at their apex, and it certainly justified the rosy images of a bright future ahead obviously dancing in the minds of Troopz and every other fan.
Watching the game and Troopz et. al.'s celebration, though, and all I could think about is how fleeting this moment of happiness and hopefulness will probably be. For as good as Arsenal looked this weekend and this season so far, it's still difficult to see them ending the season as league champions—not with Manchester City playing like they've been playing, with their superior manager and better squad and close to limitless transfer fund.
No, another top-four finish is likely to be Arsenal's ceiling, a perfectly respectable position that nonetheless loses its luster when it's never accompanied with the league trophy. What's even more haunting is the knowledge that the one year everything did in fact break for Arsenal basically all season long and a deep and extremely talented Gunner team was there to grasp that long-awaited cup, the team still let what should have been their trophy get snatched away by Leicester Fucking City.
So Arsenal fans should by all means follow Troopz's lead and crow about this victory and the performance it came with for as long as the memory of the game still brings joy. Arsenal were great, and have shown yet again that at their best there isn't a team in the world that they should fear.
Relish the win, Arsenal fans, but know that for as good as the Gunners looked on Saturday, once the injuries and confounding slip-ups against bad teams and failures to consistently compete against the good ones start to pile up as they have in every Arsenal season for decades now, in the end, the Gunners will probably be right there were they always are: safe in Champions League qualification but not really in title contention. Savor these moments, because today really is as good as it gets.