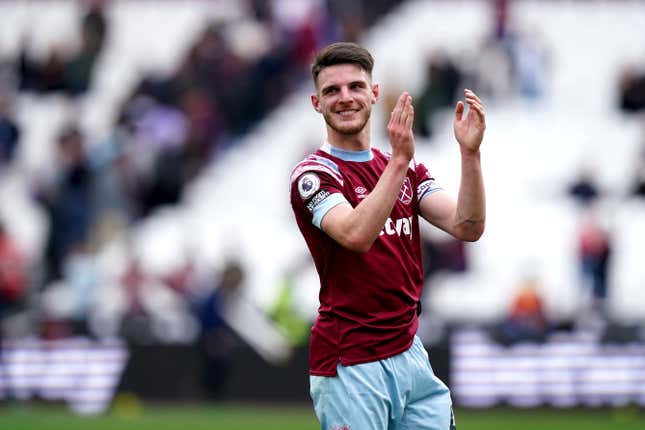 Little ammunition joke for ya there. Anyway, if the accusation, and thought was that Stan Kroenke regularly cheaped out when it came to strengthening Arsenal, this week might change all that. While Kroenke has had no problem finding success in the salary-capped worlds of the NFL, NBA, and NHL, with the Rams, Nuggets, and Avalanche pulling in championships in just the past 18 months, the wild west of the Premier League (even though it's east) saw him truly outgunned by the ungodly wealthy (Chelsea, City) or the ones with just better structure in place (Liverpool). And then whatever Tottenham and Man United were doing that somehow kept them ahead of Arsenal. It had drawn plenty of ire from those in "14 Henry" shirts, for sure.
How running an NFL team is like running a restaurant | Chef Emeril Lagasse
That changed last season when Mikael Arteta's planning and building hit fifth gear, with no small help from Bukayo Saka turning into one of the Premier League's best players. Arsenal ran with City for as long as just about anyone could, and they appear intent on extending their contention for the title next season a little longer. Though their outlay comes with some questions, and we'll get to that.
The Gunners this week have splashed out $85 million on Kai Havertz from Chelsea and are mere inches away from wrapping up the worst-kept secret in the league, their pursuit of Declan Rice from West Ham for what is reported to be a $133 million fee. Must be nice to be able to just spill out $208 million in the span of a couple days, but such is the buy-in to run with the big boys…well, big boy, of the Premier League.
That's nice and all but…
Of the two, Havertz is the bigger risk but maybe the more intriguing. Everyone knows exactly what Arsenal will get from Rice. Havertz, on the other hand, is still a mystery even after three seasons in England. When he was bought from Bayer Leverkusen, he was an immensely talented player without a real position. And he still is. Chelsea don't play with a No. 10, which is what Havertz has always felt like. He's been tried as a false No. 9, part of a forward duo, a wide forward playing from the right, and left, and occasionally as an attacking midfielder. He has flashed real class at times, but most other times just looked like he didn't quite fit anywhere. He doesn't score enough to be a center forward, and at Chelsea it's a wonder if he created enough to be anything else.
At least at Arsenal, it's clear what he'll be doing. Whether he can actually do that remains a question, as most things in Havertz's career have. Arsenal and Arteta have made it clear that Havertz will play as a left-sided No. 8 in midfield, essentially a straight replacement for Granit Xhaka (who funnily enough is off to Leverkusen where Havertz whence came). It will give Arsenal something of a dual No. 10 look when Havertz and Martin Odegaard are both in the 11, which is certainly creative as all get out.
What Havertz will certainly do is up Arsenal's press from midfield, as that was his consistent strength as a forward at Chelsea. And Arteta likes his team to press heavily.
As for Rice, it would seem he's going to replace Thomas Partey, who is either on his way out of the club and/or on his way to prison possibly. While Rice basically had to be a whole midfield at once at West Ham, Arsenal are likely to ask him to just do what he does for England, and simply be a holding midfielder supporting Havertz, and Odegaard. His dribbling skills will still be useful, now he'll only have to use it to open himself up to get the ball to his fellow midfielders instead of getting it to the forwards himself, as he often did with the Hammers. He can do it all, but should excel at merely being asked to be a #6 and should be quite the security blanket for the Arsenal defense, especially on days when William Saliba isn't around. And those were the days that eventually sunk Arsenal's title challenge.
Ein minute bitte, vous einen kleinen problemo avec de depth (he was from everywhere)
At the same time, neither signing addresses Arsenal's biggest failing from last season, which is depth. Once Saliba got hurt, and Partey's and Saka's form fell off, Arsenal were pretty much cooked. If Havertz and Rice are just stepping in for Xhaka and Partey, they're still basically in the same spot. Yes, they'll have Leandro Trossard for a full season, and he can basically play anywhere in the five most advanced positions. Maybe they're counting on continued growth from Emile Smith Rowe, Fabio Viera, and Eddie Nketiah to provide more support than they have been. That's a lot to ask from kids for a club wading into the Champions League for the first time in forever. And there are still questions about whether Gabriel Jesus can carry the mail for a full season as a team's first-choice striker, as well as what they will do if, and when Saliba gets hurt again (USMNT fans will be hoping it can be Auston Trusty, but it almost certainly isn't going to be even with him dominating the Championship on loan at Birmingham last season. Also, NOTE: Arsenal are reportedly close to signing Ajax's Jurrien Timber to boost the central defense.)
Rice and Havertz certainly up the number of types of weaponry Arsenal have (did it again!) and will diversify the attack. What they don't do is up Arsenal's numbers, and they've now seen firsthand how important that is if you want to try and lasso Godzilla for the title. But for Arsenal fans that have labored under Kroenke's ownership, they'll just be delighted he remembered where the checkbook was for them.
---
Follow Sam on Twitter @Felsgate while he tries to figure out how to spell "Szoboszlai" without looking.