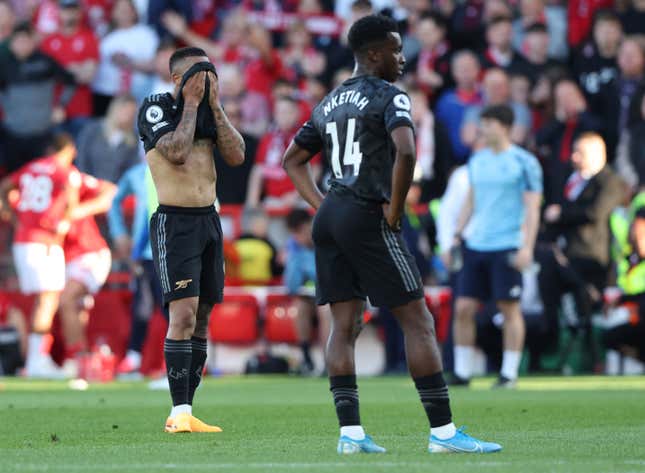 When you've spent 248 days on top of the Premier League (somewhat aided by the World Cup break, of course), getting not just passed but utterly dusted in the last month or so of the season can feel pretty deflating. That's where Arsenal find themselves, and certainly conceding the title by getting one's ass handed to it by City and by Brighton at home and then confirming Nottingham Forest's survival by looking utterly toothless doesn't leave the heart full.
Can Liverpool Win The Quadruple? | What You Need To Know | FA Cup
But when the mess is cleaned up and the hangover treated with some B-12, Arsenal should look at the season fondly. No one thought they'd be here, and they flashed some truly wonderful soccer on their way to being runners-up. And in the Guardiola Era, that might be all any team can really hope for. Should they get to 84 points next weekend, it'll be their third-highest total in the Premier League ever. Such is the way that City have warped what it takes to win a title that 84 points can be seen as low.

Arsenal made progress this season
Like last season, Arsenal's depth caused them to cough and wheeze pretty heavily at the end of the campaign. Last May it cost them a Champions League spot to Spurs — which seems utterly unfathomable now and basically a waste of both clubs' time — and this time around, the title. Compare the squads between City and Arsenal, and not only the difference in talent in some spots but how City were better able to spread around minutes. In all competitions, Arsenal had 10 players play over 2,000 minutes. City had 14. Doesn't sound like much, but look who surged at the end, and who didn't.
Clearly, Arsenal were not the same without William Saliba. Saliba last appeared in the league in Arsenal's 27th game in the Premier League, where they collected their 66th point, good for 2.4 points per game, good for a 91-point pace. That is likely where City will end up. In the 10 games since, Arsenal have collected 15 points, or a 57-point pace, which is decidedly mid-table (still way better than Chelsea though!). The whole thing collapsed without him, and the 18 goals conceded in those 10 games pretty much say everything.
Looking forward, clearly Arsenal need to do better than having Rob Holding coming in for Saliba when the latter can't play. And it's not like Arsenal will get a break in the midweek next season, because Champions League games will require the A-team most nights as well.
Where does the Gunners go from here?
Still, finding a defender to be first off the bench isn't as simple as merely throwing up a "Help Wanted" sign. True quality players will want to play regularly, and anyone comfortable with being on the bench to start probably is either a youngster coming through or an older player ready to admit where they are in the world. Arsenal's system also really requires three centerbacks to play at once, as Oleksandr Zinchenko moves into midfield from left back and usually Ben White forms the three from right back with the ball. Depth here will be paramount. USMNT fans will be hoping that Auston Trusty enters the chat after a season on loan with Birmingham, but that seems like a huge jump.
Moving farther up the field, it has been an open secret that the Gunners are the favorites to land Declan Rice from West Ham, the players' favorite transfer of moving to a bigger club and bigger salary without actually having to find a new house. And no team could be hurt by signing Rice. It's just a little unclear what Rice's role would be.
For West Ham, because they have to have him do so, Rice does everything. He plays the holding midfielder and attacking midfield roles all at the same time. If any Arsenal supporter is worried about what Rice's odometer might look like playing 3,000 minutes season after season while having to cover the whole field, we won't stop them.
Arsenal shouldn't need Rice to do all that. For England. Rice is simply a #6 behind two attacking midfielders, which he's marvelous at. And perhaps Arsenal will use him there, though that's where Thomas Partey plays (unless he's off to prison). Or maybe Mikael Arteta was so horrified by Partey's Deadhead in the parking lot performance against City in April that he just wants an upgrade. Or perhaps Rice is replacing Granit Xhaka, who's off to Leverkusen, as a pure #8. He could do that, though doesn't seem the best use of his skills. A double-pivot with Jorginho in a 4-2-3-1? Clearly there's some reshuffling coming, because this is the one spot where Arsenal are old. Party will be 30 next season, Xhaka was already in his 30s, Jorginho is 31. Rice can't really be the only addition in the middle. Another chase for Moises Caicedo from Brighton seems certain, and talk around Ajax's Mohammed Kudus has been audible as well.
Need more up front than Trossard and Saka
The depth problems may be more acute up top for Arsenal, where they really only have Leandro Trossard to back up both Gabriel Martinelli and Bukayo Saka. While Saliba's injury was clearly the biggest factor, Saka crunching a little under the weight of the most minutes he's ever played for Arsenal — as well as carrying a major role for England at the World Cup — blunted the attack, too. Arsenal will hope Fabio Viera can prove to be trusted to deputize for Martin Odegaard more often behind whoever is playing forward.
Ah, that forward. The question Arteta probably asks himself in the truly darkest hours when staring at the ceiling is can he trust Gabriel Jesus to be the unquestioned leader of the line? Jesus is top-ten in shots per 90 and shots on target per 90, so he gets in the right spots. No one shoots more regularly from closer to the target (10.4 yards on average) than Jesus. So considering all that, his finishing rate–12 percent of shots and 30 percent of shots on target resulting in 10 goals–seems a touch low. Secondly, and more importantly, Jesus has never managed more than 2,000 minutes in a season, which is only about 2/3rds. Some of that was due to being a role player at City, and he was unfortunate with a bad injury in this term in North London. Eddie Nketiah has one less goal in 500 less minutes. Are these two enough to fight on a Premier League and Champions League front?
Most Arsenal hopes right now are pinned to just how young they are. Saliba is 22, Saka 21, Odegaard 24, Martinelli 21. Natural growth should lead to improvement, so says logic, but any sports fan will tell you how nonlinear growth can be. Trying to run with City for a season has broken a couple teams in the recent past, with so much having to go right for a season to even be close that it can't possibly continue for another season. Arsenal would do well to heed that lesson.
Follow Sam on Twitter @Felsgate to see his Arsenal supporting college roommate yell at him.