Arsenal manager Arsène Wenger generally prefers to play a pretty buttoned (certainly not zipped) up character in public. But as his recent, philosophy-heavy, impeccably-wardrobed interview last month tipped us off to, he's been letting his true self out a little more as of late.
Off the heels of that L'Équipe interview, Wenger is back in the French press, this time with Le Parisien. And he has more goodies to drop from his private life. From the Guardian:
According to an interview with Le Parisien on Friday, Wenger is a lifelong fan of the Jamaican reggae superstar and regularly listens to his songs in his spare time.

"Yes, I love his music and the man that he was," said Wenger. "He was not 'fabricated'. He was real. I love people who do not have conventional paths and who stand out because of their talent. Raymond Devos and Pierre Desproges are also some of my favourite comedians."
Solid choice, though I'm a little surprised. With his stern face and austere touchline demeanor, I wouldn't have predicted that he'd bump "Jammin'" on his ride home from the stadium. (Though the mental image of him bopping around in his car, tossing his head back in rhythm as he sings "I wanna—I wanna—I wanna jam with you now" will now be stuck in my head for the rest of the day.)
He knows this isn't the exactly how the public perceives him, and admits that it's by design:
"It is true, [my sense of humor] is an aspect of my personality that people do not know about," he said. "With my job, I am often stressed, so I might appear a bit like a constipated person. But I like to laugh when I am with my friends and to let my humorous side reign free, something that I obviously cannot do in front of the media.

"You know that you can quickly cause irreparable damage when you have my job. I am more interested in controlling that."
G/O Media may get a commission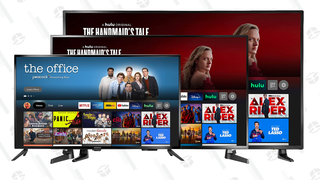 Up to 44% off
Prime Early Access - Insignia Fire TVs
All the stress of leading such a huge club with enormous aspirations must weigh on the mind, but it's good that Wenger has the tools to sit back, pop a bottle of pinot noir, drop the needle on his Legend record, joke around with his buddies, and, if only for a few hours, not worry 'bout a thing.
[Guardian]
Photo via Getty