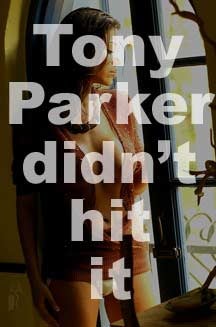 We found it odd that the Associated Press, the sacred arbiter of journalism, with tentacles all over the globe, took so much interest in whether or not Tony Parker was sleeping with some random woman who wasn't Eva Longoria. Especially since, as Playboy.com has found, the whole story is completely bunk.
It's not even the first time Alexandra Paressant, the supposed "other woman," and her agent have made up a story about sleeping with an athlete to drum up publicity.
The people (there are at least two) who are currently smearing Tony Parker and Eva Longoria tried something similar with Ronaldinho after the 2006 World Cup.

That was 17 months ago; when I heard about it I did very little digging, and the Ronaldinho story quickly fell apart. Here's what I found in detail. I stopped responding to dim-witted e-mails from "Alexandra" and her supposed manager "Olivia Ducreu," and the two geniuses pretty much went away.
But this time it worked again. We love the idea of random women just planting affairs stories with athletes just to make the Associated Press wire. It's the future of this here planet, wethinks.
Pants On Fire [Playboy.com]