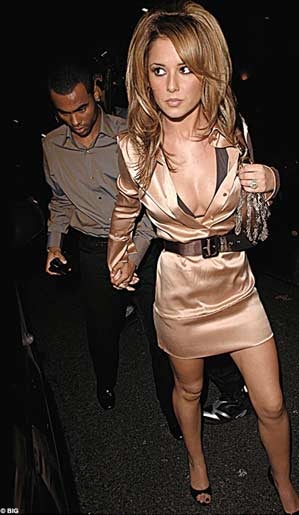 David Hirshey writes regularly about soccer for Deadspin.
Let me begin by saying that people who live in pint glasses shouldn't throw stones, but even the 14 beers I consumed at Leitch's party the other night (did anybody know he had a book out? Has he mentioned it?) didn't put me in the same league as Ashley Cole.
My favorite Chelsea player was apparently caught with his kit down last week with a woman who wasn't his wife, the pulchritudinous Girls Aloud singer Cheryl Tweedy. Think poor man's David Beckham meets rich man's Posh Spice.
According to the always-reliable Sun, Cole who had previously shown his class by bolting Arsenal for our bitter London rivals because he felt that his weekly $110,000 wage wasn't worthy of his supreme excellence, cheated on his bird, Tweedy, with a 22-year-old blonde hairdresser, Aimee Walton. And Cashley being Cashley, he did it in high style.
According to young Aimee, Smashley was so drunk during their special night together that he pulled a move out of Big Daddy Drew's playbook and threw up on her on their way to their assignation. Then, for good measure, while having sex he vomited "all over the nice cream carpet." Undaunted, Trashley excused himself and went to the bathroom, swigged a little Listeren, and got stuck in again.
Now, as readers of this column know, I'm not one to praise Cole or, as I like to call him, The Cuntley One, but you gotta give the guy credit: He's a gamer. After an injury timeout, Mouthwashley slapped her "backside so hard his wedding ring left an imprint." (I don't know about you, but I'd bid for that ass on E-bay.)
And speaking of class (don't you love these lazy segues?), I find it rich that I was lectured on Arsenal showing an absence of it by Lingering Bursitis and the gang at Unprofessional Foul after a week in which it was revealed that Tom Hicks and George Gillett, the very classy American yahoos who own LB's beloved Liverpool — at least until they can con some Arab into giving them a few thousand oil wells and a small army to escort them out of Anfield — shopped Benitez' job behind his back while issuing public declarations of support.
Oh, and please don't talk to me about Wenger's arrogance in fielding his uncircumcised babies against Spurs in the Carling Cup when Benitez had such high regard for Liverpool's opponent on Saturday that he started such household names as Martin Skrtel and Charles Itandje. How sweet would it have been had the part-time garbage collectors and taxi drivers from Havant and Waterloo (isn't that a tube stop on the Piccadilly line?) actually held onto their two leads and pulled off the greatest upset in FA Cup history?
H&W is five leagues, 123 places, and a gazillion dollars below Liverpool in the English football hierarchy, yet for 45 glorious minutes they matched the five-time European champions tackle for tackle, pass for pass and goal for goal. When word came through to Kinsale Tavern that Liverpool was tied 2-2 at the half — in their infinite wisdom, the British TV feeds had chosen Wigan-Chelsea over Pool-H&W — the entire bar sang a mock chorus of "You'll Never Walk Alone." In fact, Benitez would surely have been walking alone right out the club exit had he not been saved by Super Yid Yossi Benayoun's hat-trick. Afterwards, the embattled Liverpool manager at least did two things that hinted while his owners may be bumbling fools he still retains a touch of class. He praised Havant and Waterloo on their "courageous" performance ,and he didn't throw up on the nice cream carpet.
This just in: Manchester United and Arsenal have been paired in the 5th round of the FA Cup on February 16-17. Holy fucking shit. Nice to see that the draw isn't fixed.