A remarkable thing has been happening in New York's Madison Square Garden the past few days: Jeremy Lin, a charming 23-year-old with an economics degree from Harvard College, has somehow become the city's ultimate underdog and talisman.
Only in New York can a quick, defense-friendly point guard and his nifty reverse lay-up nearly trump the local football team's heart-stopping Super Bowl victory in water-cooler chat value. And only in the NBA can an Asian-American Harvard grad's success shock everyone. It's the perfect beginning of what could either be Knicks fans' latest colossal disappointment or the league's favorite marketing figure since Yao Ming.
Lin scored a career-high 25 against New Jersey on Saturday, and added seven assists and five boards. He outplayed Deron Williams on both ends of the court and defended him as if his job depended on it. It probably did. Two nights later, against Utah, he got his first career start and played all but three minutes in the game. Another game, another new career high: 28 points, with eight assists and eight turnovers.
Sophomores who had scant playing time in their rookie seasons are not supposed to take off like this, especially when they come from the Ivy League. It should come as a slight condolence to us all that the professional sports arena is the one place on earth in which a male graduate of an Ivy League institution is expected to fail, but instead that presumption has only made Lin's quick rise all the more electric. It's not just that Ivy League dandies aren't usually the ones who fire up a capacity crowd at the Garden—Bill Bradley would have something to say about that—it's that it's never ever been an Asian-American kid who fires up a capacity crowd at the Garden.
G/O Media may get a commission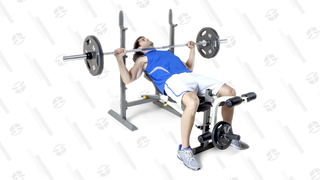 10% Off
Marcy Folding Weight Bench
Lin is both.
And so it has been a wonder to watch how we, the disbelieving yet adoring public, react to him. I have seen a lot of Knicks fans' neuroses and breakdowns play out in public before, but never quite like this: It's as if no one can truly fawn over "Linsanity" yet because the mere mention of his name might make him disappear, like some kind of magical elf. I've never seen a fan base think so little of and still so goddamn much of a single player before.
There is a legitimate argument to be made, though, that Jeremy Lin is exactly what no Knick fan wants to call him: A very good and possibly long-term team point guard. Apologies for the possible jinx, New York, but it's true. Lin's game matured at Harvard under Tommy Amaker, a former Duke guard. Amaker, like Mike D'Antoni, ran a go-ahead offense that depended heavily on its skilled guard, Lin.
Lin, in turn, developed an aggressive driving game that fed as much off of his ability to finish in the paint as it did his ability—and willingness—to dish. In his senior year, Lin took just 19 percent of the team's shots and still led the team in scoring. Amaker also demands quality, half-court defense from his players at Harvard, which is the surest and quickest way for any new Knick to curry favor with D'Antoni, and Lin's proven quick enough to stay in front of most of the league's best guards.
And have you seen him and Tyson Chandler run a pick and roll?
Over on The Point Forward today, Sports Illustrated's Zach Lowe has some very reasonable reasons to temper mass Linsanity, and he's right that Lin's minutes and production will not last—especially against better defensive teams. But aside from his very good fundamentals, and aside from the gape-mouthed Knick fans, Lin and all of the hype bubbling around him has been very fun to watch for a very simple reason: He is having the best time ever.
He's looked positively at ease on the Garden floor, but we're reminded that none of this makes sense, really, every time he breaks character to smile disbelievingly at his own play. Last night, Lin received the ball wide-open on the perimeter after a freakish Chandler tip and drilled a three-pointer with that awkward, follow-through-free jumper of his, just as the shot clock's buzzer sounded. It was his 26th point of the game—breaking his two-day-old career high—and as he backpedaled down the court for Utah's next possession, he attempted a cool, winking nod in Chandler's direction. It lasted for about a second, and then he smiled like a kid and stuck out a Gatorade-stained tongue.
He didn't know how to react. Neither do we.
ALSO: Seeing Jeremy Lin At The Garden Was The Best 11 Bucks I Ever Spent On Pro Sports