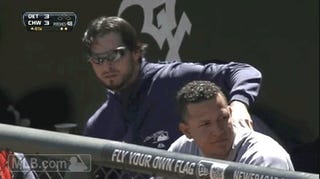 Actual conversation that took place a few minutes ago here at Deadspin HQ:
Craggs: "We haven't had a post since 12:45?"
Barry: "I've got something about to go up."
Me: "I do, too."
Barry: "I was gonna put mine up right now."
Me: "Oh, go ahead. I've just got a stupid GIF. Anibal Sanchez sneezed into his hat."
The end.
[Cut 4]