So Tiger Woods backed out of the Masters this week after having a microdiscectomy operation on his spine. And, in accordance with how Tiger Woods conducts business, a gangbang of faceless agents and marketers came together on his behalf and posted a formal statement on his website about the withdrawal, which included this passage:
The goal is for Tiger to resume playing sometime this summer. The repetitive motion from golf can cause this injury, and Woods could have sustained further damage if he had continued to play. There should be no long-lasting effects from the surgery, and it should not impact the longevity of his career.
I have had this exact same kind of surgery three times, and I can tell you that the last sentence in that paragraph is a blatant lie. Even though this is an outpatient procedure (I went home the day of all three of my procedures) and most people are up and moving immediately afterward, there are very obvious long-lasting effects. In a microdiscectomy, doctors remove a portion of the disc that's pressing against the nerve and causing pain, numbness, and discomfort. Once that piece of the disc is gone, the space between the vertebrae shrinks a bit and you are left with less cushioning than before. That's permanent. Long lasting, you might say.
More of the disc can leak out (and it usually does) because the bubble sealing it in has ruptured and can't be sewn back together. Scar tissue builds up. Certain muscles get strained because your body is trying to compensate for its new change in structure. Degenerative discs (like mine!) tend to degenerate further. Re-injury can be common, and certainly isn't 100 percent prevented by this procedure, ESPECIALLY when you play golf for a living. It's just an operation that's designed to get you back on your feet until the next time it all goes to shit, which you hope happens AFTER you die. There's also the lingering fear of re-injury, and the inevitable loss of confidence in your own body that comes with old age and decay.
Obviously, there's nothing new about Tiger Woods's camp issuing a trite pile of sunny lies, even when it trivializes an ailment that tens of millions of Americans struggle with every day. But this kind of endless spinning looks more and more ridiculous the further we get from Woods's heyday. Woods is less a golfer now than he is a sputtering bullshit factory. There is still an entire industry built upon Woods's chase for Jack Nicklaus's record of 18 majors, which means that neither Woods nor his enablers can admit that he's now on the wrong end of his aging curve, and his chances of passing Nicklaus are thinning rapidly. I mean, look at poor Rick Reilly still trying to serve as pegboy for Woods here:
G/O Media may get a commission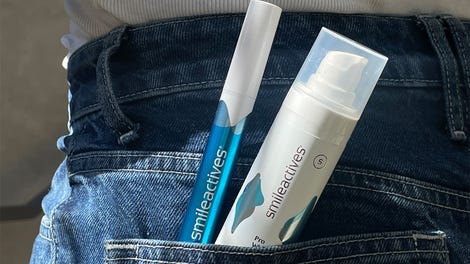 58% off
Whitening Powerhouse Pen & Gel Duo
Golf has been in the Tiger Woods business for so long that it has no clue how to extricate itself from his narrative. For the past 17 years, I haven't watched golf. I've watched The Tiger Woods Show (who saw all those orgy twists coming?!). Everything else about the sport was an inconvenience, and Woods and his people treated it similarly.
During major broadcasts, you will still hear that Tiger is "in the hunt" even when he's hopelessly out of the running. You will still see his name on the ESPN.com headlines ticker when he places 56th. Nike signed Woods to a contract extension just under a year ago. It behooves all of these people to convince you that Woods still has a good shot at breaking Nicklaus's record when his performance and his injury history say otherwise. And so this is why you get a formal statement acting as if Woods is fine and dandy despite the fact that he'd probably be better off if he never picked up a golf club again (after my second operation, I was still medically allowed to play golf but stopped; I'm sure Jack Nicklaus breathed a HUGE sigh of relief that day).
I say all this knowing that Woods is a world-class athlete and that world-class athletes are just the sort of people who can survive this type of spinal injury and still excel. Peyton Manning did. But during his rehabilitation, Manning and the media happily allowed room for doubt. That kind of clear doubt is not allowed to exist in the Tiger Woods industry. If you believe Reilly and Nike and the like, it's still 2007 and you should still bank on the IDEA of Tiger ripping off five majors in a row. He's still superhuman. Still more determined and gifted than anyone else. That's what keeps Woods a sustainable commodity even when reality is standing over there in the corner screaming HEY! YOUR BACK IS FUCKED, ASSHOLE!
Unfortunately, golf is a sport that allows players to stick around forever, and so there's never gonna be a single moment when the bubble bursts for Tiger Woods, when he walks onto a course and shits the bed and we all collectively agree that we don't need to waste time worrying about Tiger Woods anymore. He'll just bullshit his way through year after year of occasional appearances and inconsistent play as, one by one, fans accept that the chance is gone and that Woods will ultimately go down as the second most accomplished golfer in history. I promise you that Woods and his handlers will be the last to admit it.
Photo via Getty