You can imagine the bittersweet mixture of sadness, gratitude, and relief 76ers fans must be feeling this evening. Today, in a flurry of moves executed just before the NBA's annual trading deadline, general manager and president of basketball operations Sam Hinkie finally pulled the plug on a beloved but aging core of players who gave the city of Philadelphia years of great basketball, but never quite made their way over the top to a championship. If he perhaps rode with this battle-tested gang one half-season too many, no one could say they hadn't earned it—just as no one who watched the once-great team stagger into the All-Star break with an unsightly 12-41 record could deny that, yes, at last, it's time to rebuild.
Gone are longtime franchise point guard Michael Carter-Williams and ace two-way wing K.J. McDaniels, to the Milwaukee Bucks and Houston Rockets, respectively. If parting with the backcourt tandem who created so many cherished memories is a painful moment for Sixers fans, at least they can take solace in the knowledge that Hinkie made the Bucks and Rockets pay dearly for these roundball warriors. The haul includes budding star Isaiah Canaan, a career 39-percent shooter whose departure will sting Houston fans almost as much as seeing McDaniels in Rockets red will hurt the Philly faithful. It's poignant, in a way. In giving up Canaan and a vital second-round pick, the Rockets are saying goodbye to their future, just as the Sixers bid farewell to their past.
As for Carter-Williams, maybe he doesn't have quite as much trade value as he did those eight long hours ago, when Sixers fans rightly pointed to his Rookie of the Year award as proof Hinkie had assembled the core that would deliver years of title contention to their formerly downtrodden franchise. Still, the pick coming over from the Lakers in the complicated multi-team deal that sent this Philly hoops icon to Milwaukee could go as high as sixth in the coming draft, and that's nothing to sneer at in return for an aging guard without much tread left on the ol' tires. With it, perhaps Hinkie can tap the next big, strong, athletic, playmaking guard to serve as the court general of the next great era of Sixers basketball—one with the type of long-limbed frame his analytics-optimized front office values so much. The kind of player Carter-Williams himself used to be, before all those years of NBA basketball caught up to him.
Certainly this means a step backward for a team and fanbase grown accustomed to a place in the annual playoff hunt. It may take many years for the draft picks acquired today to bear fruit in the form of meaningful June basketball. Likely there will be setbacks along the way, blue-chippers who don't pan out, swinging misses in free agency, as the team works its way back to greatness. But, surely all 76ers fans would agree that, after the commitment, loyalty, and faithfulness he showed to his last rebuilding project, and the years of entertaining and competitive basketball that serve as testimony to the effectiveness of his methods, Sam Hinkie has earned a couple seasons' worth of patience.
G/O Media may get a commission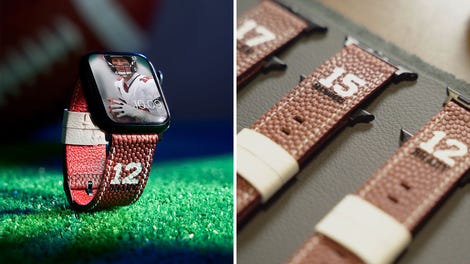 Official NFL PRODUCTS
Official NFL Apple Watch Bands
Photo via Getty