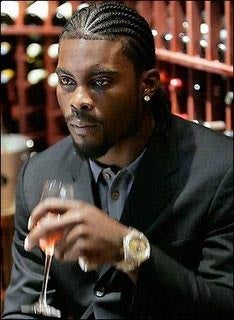 You know, it's just not a Wednesday afternoon if someone isn't trying to get more money out of Michael Vick. Next up? His restaurant!
You remember Vick's wine restaurant, don't you? The one that was supposed to help Vick "become an entrepreneur and make [his] money grow?" Well, it hasn't turned out so well: The bank wants its million bucks back.
The bank is seeking $940,000 of the $1.3 million loaned to Vick in 2006. In a federal lawsuit, the bank says Vick, partner Gerald Frank Jenkins and their Atlantic Wine & Package LLC have failed to make monthly payments of principal and interest, and that Vick's obligations "are impaired due to recent events involving Defendant Vick."
Wait ... banks won't accept cigarettes and Playboy cutouts? Well, then we're afraid Mr. Mexico has no currency for you.
Michael Vick's Restaurant Will Soon Be No More [Lion In Oil]
We'll Take The Scrambling Eggs [Deadspin]