Yesterday, 2010 world championships silver medalist Mattie Larson read her victim impact statement at Larry Nassar's sentencing. Larson related a litany of horrors from her time as a member of the national team—the coaching staff shunning her at the 2010 world championships after she made a mistake, how she harmed herself in order to avoid going to the national team training center, and the years of sexual abuse she was subjected to at the hands of Nassar.

Larson also mentioned that at times there was a female athletic trainer in the room while she was being sexually abused under the guise of medical treatment, a woman named Debbie Van Horn. Larson noted that this woman still works for USA Gymnastics. Victim 178, who wished to remain anonymous, also invoked Van Horn's name in her statement that was read in court. She said that Van Horn often would leave the room when gymnasts were being treated or would turn a blind eye to what was happening.
Last spring, I reached out to USA Gymnastics to request an interview with Van Horn. Nassar mentioned her by name to me when I interviewed him in 2014. Not that I needed him to make me aware of Van Horn's existence; the fact that they worked together with the gymnasts on the national team was well-known. Nassar also mentioned Van Horn when he posted his "retirement" message to Facebook in September 2015. (He actually been fired by USA Gymnastics and reported to the FBI but had been allowed to say publicly that he was leaving the organization.)
At the time, USA Gymnastics said I could send questions to Van Horn and they'd see if she would be able to answer them. I sent a fairly lengthy list of question to USA Gymnastics to be directed toward Van Horn. Some of the questions were quite general and not specific to Nassar, things like "What is the most common type of medical treatment performed at the Ranch?" and what kind of medical forms do parents have to sign before their kids go there? I also sent more Nassar-centric questions, such as "Were there any rules regarding girls being alone with members of the medical staff?" and "Do you recall any red flags or suspicious behavior [from Nassar]?" I was told that due to pending litigation, Van Horn would be unable to respond to any of my questions.
Later in the summer of 2017, I wrote to USA Gymnastics again, asking if Van Horn was still employed by the organization because I couldn't seem to find her name listed on the website, as it had been previously. I was told by a spokeswoman that she was still employed by USA Gymnastics.
G/O Media may get a commission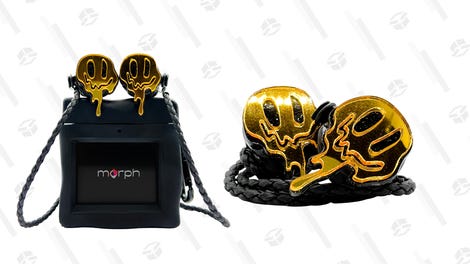 morph audio
Morph Earphones
It seems that this is no longer case. When Larson said that Van Horn was still working, it seems that she might've been off by just one day. Van Horn, who had worked for USA Gymnastics since 1988 and whose last job title was "director of sports medicine services," was no longer with the organization. In an email sent to USA Today, Mark McCreary, the chief administrative officer at USA Gymnastics, wrote: "Effective, January 22, 2018, Debbie Van Horn is no longer employed with USA Gymnastics."
This news comes on the heels of three members USA Gymnastics' board of directors resigning and the USOC's demands that the rest of the board members go, too.