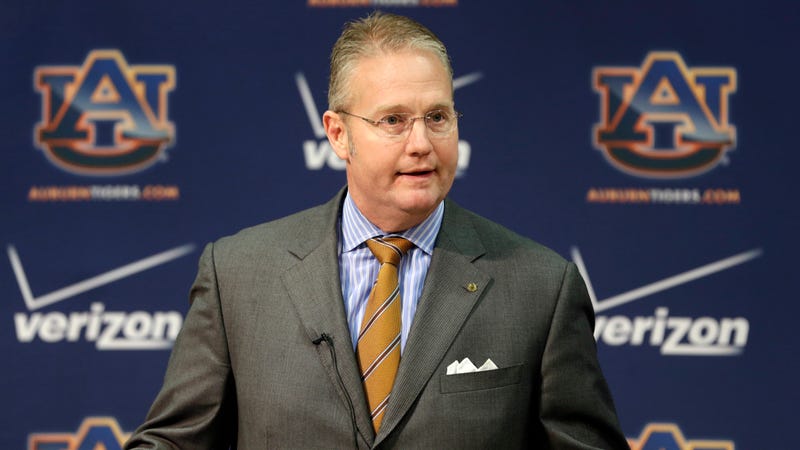 After a 13-year run at Auburn that was equal parts success and scandal, Tigers athletic director Jay Jacobs made use of the Friday news dump to announce that he will retire either next June or whenever Auburn hires his replacement.
In a note titled, "A Word From Jay Jacobs," the former Auburn offensive lineman wrote that "the last several months have been a particularly difficult time," adding that he "prayerfully decided" that the time for him to step down has come. Jacobs's full letter can be read here. An excerpt:
The last several months have been a particularly difficult time. Across several sports, a series of controversies have arisen. They have begun to take their toll and have raised questions about why Auburn must endure such problems. As I have always done, I have worked my hardest and best to do what is right for Auburn.

I believe in Auburn and will fight for Auburn. But as I consider the future and what is best for Auburn, I have prayerfully decided the time has come for me to step aside. Sometimes a new direction and new leadership are helpful in moving beyond current problems.
While the puffery is pleasant, this move has been public knowledge for over a month now, with a report from AL.com published at the end of September revealing Auburn had initially planed to oust him at the end of the football season but sped up the move after multiple scandals involving the softball and men's basketball programs surfaced. Auburn president Steven Leath initially denied the report, calling it "inaccurate," yet here we are.
In the past year, Auburn's athletic department has faced scrutiny for two major scandals. The first came in August, when softball assistant coach Corey Myers, son of head coach Clint Myers, was the subject of a Title IX complaint after he attempted to initiate sexual relationships with multiple team members; his father and another unnamed Auburn employee then threatened the players when they threatened to report his inappropriate actions. The second came in September, when the FBI announced its investigation into college basketball recruiting; Auburn assistant coach Chuck Person is reported to have accepted $91,500 to push Tigers players to use the financial services of Rashan Michel. Both men have since been arrested by the FBI and await indictment, which is reportedly coming next week. The scandal cost Auburn one five-star recruit and earned two starting players indefinite suspensions for accepting money from Person. This is all in addition to Jacobs personally lobbying for the school's athlete major, shelling out athletic department money to a security firm to ensure the football team sticks to its curfew, and, of course, the whole Cam Newton saga (which turned out to be nothing as far as Auburn was concerned).
This decision on the part of Leath and the board is clearly a response tailored to skip the ugly alternative other schools have used. Rather than firing him with cause and running over him on the way out as Louisville did with Tom Jurich, Auburn's leadership decided to let Jacobs ride this one out on his own terms. Now there won't be a nasty legal battle in which the two sides sling mud and burn bridges. Instead, Auburn's leadership will permit the long-time AD to resign, collect his remaining salary money, and ride off into the sunset with nary more than a streak of bad PR that, thanks to those national titles, will no doubt induce a convenient case of amnesia for the next school to hire him.