Even though Austin Rivers didn't play against the Rockets earlier this week, his very presence helped spark the Rockets' furtive voyage to the Clippers locker room to cause a commotion and not actually fight. This is because, as Bill Simmons said on Zach Lowe's podcast, Rivers would not stop talking shit to the Rockets, and also because Rivers is generally despised and viewed as an undeserving brat who gets play because of his father. He's been made fun of since he was in college by former teammates, current teammates, and basically everyone else.
Rivers finally spoke about his rep with ESPN's Ramona Shelburne today in the wake of the non-fight, and he admits to being exactly the shit-talking brat he's perceived as:
"People are like, 'Well, his dad gave him his chance.' Is that true or not? I don't know. It might be," Rivers said. "[But] could it be that my pops knew how good I could be because he's my pops?

[...]

"I know what the narrative is on me," Rivers said. "It's because I come from money and I have a swagger and confidence about me.
"[But] if I didn't have this confidence or swagger in myself, I wouldn't be built to handle the negativity that I've gotten."
Rivers said he's been getting shit for epitomizing the coach's son archetype since he was in high school, and while he doesn't try to hide the fact that he had an advantage in the basketball world, he insisted that his critics acknowledge his newfound success. The Clippers are currently tied for sixth in the West and Rivers is playing very well, averaging 15.8 points per game on 40 percent three-point shooting. He insisted that he doesn't want anyone to feel sorry for him, just to judge him on his play rather than his last name. That's a fair ask, and it's impressive that Rivers has maintained utter confidence in himself while everyone makes fun of him.
That said, he should still be prepared to deal with it because he's a huge pest and his dad is annoying too.
G/O Media may get a commission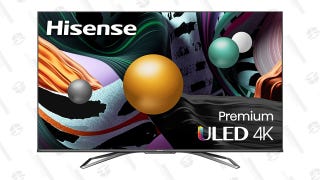 Save $350
Hisense ULED 65" Android 4K HDR Smart TV
[ESPN]