Lucas Glover's wife, Krista, was arrested in Ponte Vedra Beach, Fla., on Saturday night and charged with domestic battery and resisting an officer after she apparently struck Lucas and his mother, Hershey Hendley, according to the St. John's Sheriff's Office. Inmate records from the sheriff's office show that Krista was released Sunday morning after posting bond.
Lucas Glover was participating in the Player's Championship last weekend, and he missed the final cut after shooting a 78 on Saturday. According to the arrest report, Krista became angry with Lucas after his bad round, and Lucas told deputies that "every time he plays poorly in a tournament, Krista begins yelling at him, stating he is a 'loser' and 'pussy' and ultimately starting an altercation with him about his performance." He also told deputies, per the report, that she regularly yelled at him about "how he needs to fire everyone, and how he better win or her and the kids would leave him and he would never see their kids again." Lucas told deputies that his wife "had been drinking throughout the day" and that he got her to cool off in front of their two kids.
However, after they went to bed, Krista apparently "forcefully attacked him." When Hendley tried to intervene, the report Krista says then turned her attention on her, hitting Hendley. According to the arrest report, Hendley was left with cuts on both of her arms and was also struck in the chest multiple times. Lucas told deputies that he was "tired of the altercations" and "Krista always acting the way she does," according to the report.
G/O Media may get a commission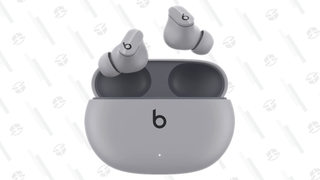 Deputies felt they had probable cause to arrest Krista, but she fought back when they tried to put her in the back seats. At one point, she kicked the rear driver's side door of the car, screamed, and caused the door to "visibly separate from the cell of the door frame."
After deputies told Lucas why they'd arrested Krista, he changed his story. He told deputies that he was never attacked by Krista, and that he'd simply intervened in a dispute between Krista and his mother. He refused to sign a sworn affidavit, and Hendley said she did not want charges filed. While on the way to the jail, deputies wrote that Krista continued to yell at them.
Glover released a short statement this afternoon.

You can find the full sheriff's office report below, via the Golf Channel's site.