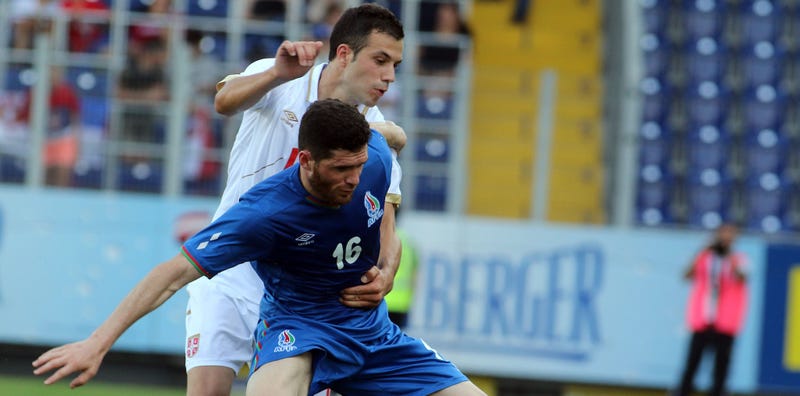 In the heat of the moment, I bet family members of athletes who are unfairly shit on by the local hot-take purveyors in the media have fantasized about exacting revenge. In Azerbaijan, one player's family members took this impulse a little too far and actually killed a guy for insulting their relative on Facebook.
Rasim Aliyev wrote for a local publication and covered soccer. At a Europa League match between Azerbaijani club Gabala FC and Cypriot club Apollon Limassol, he watched as Azerbaijan national team star and Gabala captain Javid Huseynov lead his team to victory. In the postgame celebrations, Huseynov waved around a Turkish flag. Aliyev, among others in attendance, did not like the gesture. From ESPN FC:
Huseynov was confronted by journalists about his actions in the mixed zone after the game, but the striker replied aggressively saying "Turks are my friends" and made a rude gesture.

Following the incident, Aliyev posted a statement on his Facebook page on Friday which read: "I don't want us represented in Europe by such an amoral and rude player who cannot control himself."
Aliyev later announced on Facebook that Huseynov had contacted him to clear things up. At some point, Aliyev got in touch with a member of Huseynov's family, asking if they could meet up and discuss things. Back to ESPN FC:
"He was talking normally and offered me a cup of tea as a sign of making peace. I said 'I don't want to,' but he insisted. They came over and I went to meet them alone," Aliyev said from his bed on Saturday evening.

"When I offered him my hand to greet him, they attacked me from behind and started to hit me. There were six or seven of them, I didn't see their faces. They were hitting all over my body. I dropped my phone and wallet, and they took them before running away in different directions."

Aliyev was hospitalised with several fractured ribs and he died from internal bleeding on Sunday morning.
Some sources are reporting that a cousin of Huseynov has turned himself in, but others contradict that. It's still unclear who exactly attacked Aliyev and what their actual relationship to the player was.
Here's the rundown: athlete does controversial thing, gets journalists into a tizzy, hot-taker slams athlete on Facebook, athlete's family slams hot-taker's body within an inch of his life, hot-taker dies. May this cycle never be repeated.
[ESPN FC]