A weekly look at smart plays, oddball propositions and all your tales of gambling woe.
Week 4 revealed the only two rules of NFL handicapping: No matter the circumstance, never, ever bet against Peyton Manning or on JaMarcus Russell. Even if the opposing team has the league's worst-ranked defense — like the Texans did coming into last week's game against Oakland — JaMarcus & co will make them look like the Steel Curtain.
Oakland's 165 yards of total offense were the second-fewest allowed in Houston franchise history, and the its 45 rushing yards were the fourth-fewest Houston has ever allowed. The cause was a colossal lapse in football fundamentals, with Oakland's O-line surrendering leverage by "blocking too high." "Really, not a missed assignment deal," Tom Cable said. "It's more coming off the ball and attacking the defense." Cable could lead by example, which he may soon be phoning in from jail.
Nobody was more irritated by Oakland's offensive ineptitude than Deadspin reader Mike R., who watched JaMarcus Russell defecate all over his eight-team parlay:
Bet on all 8 early games on the spread, need all eight to win, win pays 90x the wager. My picks:
TB +8.5, 
CHI -9.5, NE +1.5
, IND -10.5
, CLE +6.5
, JAX +3.5 
NYG -8.5

. Well, there's seven. All wins for me. looking good, right?

 No, not so much. My eighth pick? Yeah...
OAK +8.5


WHY? WHY THE FUCK DID I BET ON THE FUCKING RAIDERS TO COVER ON THE ROAD? now, I know Nash Landesman did the same thing, but I don't pay much attention to that. I did a cursory lookover of the matchup and thought: "Wow. The Texans defence really fucking sucks. Especially the run defence and even though Jamarcus Russell is a lazy piece of pick-throwing shit, the Raiders can run a little, right? Even though their by far the worst-run franchise in football and maybe the universe, they're only playing the fucking Texans and their Glass Joe of a quarterback, right? And they have Richard Seymour now, and he's pretty good right? They can lose by a touchdown or so and I'm in the clear, right?"



NO, NO, NO. I was wrong. And I should have known better. Watching the rest of the games shape up in my favour I was reduced to yelling at the Texans-Raiders gamecast on my computer and then yelling at my poor hungover girlfriend when she kept asking me what was wrong as the Raiders literally fumbled away any chance of putting any amount of points on the board. Oh, and swearing. I did a lot of swearing. As well as wanting to slam my head in a heavy door repeatedly for talking myself into taking the Raiders to cover ON THE ROAD.



I will not ever again bet on the Raiders, under any circumstance, ever (at least this year.). They will not cover. They will not score touchdowns, let alone only lose by one of them on the road. Jamarcus Russell will continue to have a quarterback rating strikingly similar to the one that he would have if he sailed every ball 12 yards over somebody's head. Which he does enough of as it is.



To summarize: Don't fucking bet on the Raiders. Fuck the Raiders. Fuck their illiterate, unkept fans. Fuck the city of Oakland. Fuck their fucking fat bastard pice of shit bust of a quarterback. Fuck their jaw-breaking coach. And especially, fuck their fucking demon spector of a fucking owner. They should be fucking contracted.

And now, I'll just bet twice as heavily against them next week. As far as I'm concerned, Al Davis owes me 900 bucks. Fucking undead motherfuck.
G/O Media may get a commission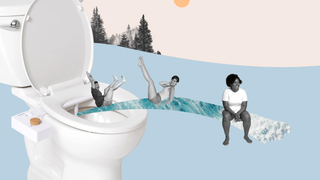 17% off
Tushy 3.0 Warm Water Spa Bidet Attachment
Unfortunately for Mike, oddsmakers are now setting inflated spreads to counter blind betting against teams like the Raiders, who are 15.5 point underdogs this week against the Giants. It's just like the New England effect of 2007, only the reverse: "In many cases, we're looking to post lines that get two-way action," one oddsmaker told Pro Football Weekly. "But that's a myth, because in many cases we can't get enough action on the struggling teams. We're probably going to elevate those lines more quickly than usual, as money comes in against those teams." Hence, we're suddenly seeing some of the year's biggest lines: (Bucs +14.5 at Eagles; Steelers -12 at Lions; Raiders +15.5 at Giants). He adds that the smart money is coming in on the winless Chiefs (+8.5) and Bucs (+14.5) — two teams that, unlike the Raiders, have flashed some potential in their haplessness.
Handicap Zone
My picks are underlined.
Colts -3.5 at Titans
For a team with the league's last-ranked pass defense (which just got lit up by David Garrard, no less), the Titans are getting surprisingly few points against Peyton Manning. Jeff Fisher will get his team together eventually, but it won't happen this week, even with Cortland Finnegan hobbling back into action.
Falcons +2.5 at 49ers:
While he digested Kyle Boller for lunch, Patrick Willis was crowned the second coming of Ray Lewis following San Francisco's 35-0 victory over the Rams. Why not? No. 52's defense generated more than enough scoring to make up for the absence of Frank Gore. This week, however, San Fran will have trouble keeping up with the Falcons' offense. And unlike Kyle Boller, Matt Ryan has never lost back-to-back games in his career.
Jets-1.5 at Dolphins
If the return of Calvin Pace staggers the Dolphins, Braylon Edwards will provide the knockout punch — just ask LeBron's friend.
Bad Beats: Readers Share Their Tales Of Woe
I put in a few bets on 9 am west coast games over this past weekend. No huge, get-my-legs-broken amounts, but it's still money. My money. Anyway, one of those bets was Ball St. +5. Let's pick it up with Ball St. leading 16-14 after three quarters. I was feeling ok about things. I really shouldn't have been....

Ball St. scores a TD to make it 22-14 with 8:54 left. (sweet!)
Toledo scores a TD +2 to make it 22-22 with 6:16 left. (dang!)
Toledo scores a TD to make it 29-22 with 3:45 left. (fuck.)
Ball St scores a TD +2 to make it 30-29 with 0:42 left. (really?!?! That's fucking awesome.)
Toledo scores a TD +2 to make it 37-30 with 0:27 left.

Toledo could have missed the two pointer, still won the game, and I get a push which really just adds a level of shittiness to this whole thing. I was checking the score on my phone on a way to a wedding so that last page refresh I did, just to make sure it went final (when I thought I was in the clear), was brutal. Thanks for giving me a space to whine. Did I learn anything from this? Nope. Other than Ball St and Toledo are probably attended by assholes who don't care about me. (Sean)
In my sophomore year of college in 2005 I was making a good amount of money playing online poker. The site I played poker on also had sports betting, and I inevitably began making some side bets. I was attending the University of Michigan and a buddy of mine worked closely with the football team in a capacity where he actually would spend a lot of time watching the opposing team's game tape. A week or so into the season I told him that if he ever came to the conclusion that Michigan COULD NOT possibly lose its upcoming game that he should tell me, so that I could subsequently bet on the game.

Well a day or two before the Minnesota game (played at home) my friend said that Minnesota looked horrible and that he was sure Michigan would win. Michigan had beaten Minnesota 16 straight times. So I took a look at the money line and Michigan was favored by something like -480. I couldn't make much money betting a few hundred on them so I decided to put $1000 on Michigan to win. This would pay out (I can't remember exactly) close to $230.

Michigan's offense wasn't as explosive as it was purported to be, and unfortunately for me, Minnesota wasn't that bad. With a little over a minute to go Minnesota is on its 25 yard line and lookin at a 3rd and 10. I'm thinkin that Breaston might be able to get something going on his upcoming punt return and maybe we'll get a last second field goal, but in all likelihood we'll just win this thing in overtime because we're the better team. Well guess what, how bout none of that is going to happen because Gary Russel takes the next hand off and runs down the side line all the way to the 14 yard line. Minnesota kicked a little chip shot field goal with a few seconds left and won. What killed me was that Minnesota was simply trying to kill the clock and somehow ended up with a 61 yard run and luckily stumbled into the win. It was a very depressing walk home.

I also lost three thousand dollars later that month betting on virtual horse racing, but it was hands down the most fun I've ever had gambling and was quite a wild ride (at one point I was up 2k). Nothing gets the juices flowing like sitting down with your laptop and watching your fake horse win a fake race by the slimmest of margins. (Adam T.)
Share your bad beat with the world. E-mail us at tips@deadspin.com. Subject: Bad beats.
Outlandish Prop Bet Of The Week: Are We Tackier Than Dubai? Edition

Via Paddy Power: "First country to name a main road 'Michael Jackson Street' after June 30th 2009"
USA 11/10
Canada 8/1
Germany 14/1
Dubai 4/1
France 8/1
Spain 14/1
Australia 6/1
Scotland 10/1
Brazil 16/1
England 6/1
India 10/1
Japan 18/1
Rep. of Ireland 8/1
Northern Ireland 12/1
Argentina 20/1