Here's a video that's been making the rounds the past couple of days, showing a ballgirl making a rather unbelievable catch of a foul ball during a Fresno Grizzlies game at Chukchansi Park. Pretty impressive; even when you discover that it was staged. It's actually a Gatorade commercial which was filmed following a regularly-scheduled game between the Grizzlies and the Tacoma Rainers. But it had — and continues to have — a lot of people fooled.
"The production company "leaked" the video onto the Internet over the weekend hoping for a viral effect, and considering the number of calls we've received today from all over the country, I suppose the strategy worked somewhat," said Grizzlies media and public relations director Paul Kennedy. "Everyone that called believed the video to be real, or were leaning in that direction. The original cut had the commercial voice-over and a logo at the end, but without that people were completely fooled."
Anyone really familiar with Minor League baseball would have known something was up: As Kennedy said, "Unfortunately we don't have the budget for ball girls here at Chukchansi Park."
Interesting article in Shoot Online on how the commercial was made; it was created by Chicago's Element 79 Partners and directed by Baker Smith of Santa Monica.
As for how the ball girl (played by stuntwoman Phoenix Brown) made the spectacular catch that is the highlight of the video, she got a little help from rigs and Framestore CFC. Smith and his crew shot the big catch right after the game they were shooting concluded, attaching the ball girl to wires and having two stunt men off to the side literally yanking her up the wall. "It was so low-tech," Smith said of the stunt. "We had her run, and she would jump, and they just gave her a little extra oomph. It was really very, very simple."
G/O Media may get a commission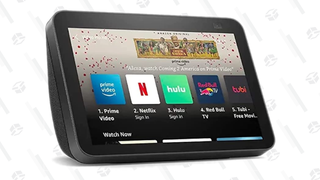 But one has to feel sorry for poor Jake Wald, the left fielder shown in the video who "didn't even bother to give an effort," according to the announcer. Wald, who is in reality an infielder (and now plays for the Connecticut Defenders), will be forever known by those not in on the joke as the guy who got shown up by a girl.
Top Spot Of The Week [ShootOnline]