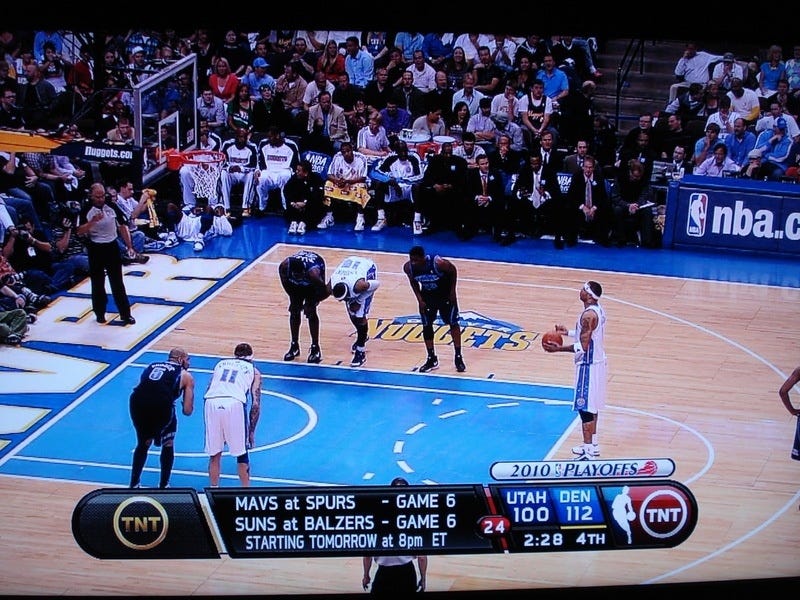 Because no one reads the newspaper, and SportsCenter's anchors are too perky for this early in the morning, Deadspin combs the best of the broadsheets and the blogosphere to bring you everything you need to know to start your day
• The Nuggets were helped by Mr. LaLa's 26 points and inspired team unity speech to go down 3-2 to the Utah Jazz. To the East, where Joe Johnson and the rest of the Hawks have decided that Milwaukee really needs this playoff series win more than they do. Tonight we'll see if Brandon Roy and the Balzers can keep up with the Snus.
• Here's a nice story about finding a common bond of Mets fandom in an unusual place.
• Hockey.
It's official: The Tampa Bay Rays will kill anything that moves. James Shields mowed down 12 A's and then the offense did the rest. Everyone's having fun!
• Yeah, these guys are searching for Kevin Ollie or something weird. They keep bothering us. So here's their link.
• Drew Brees continues to be good at everything, including charity softball home run derbies. That's why NoLa restaurants have odd oil paintings of him in their dining rooms. He's a transcendent hero.
Good morning. It's Thursday. Time to catch the train to Stony Brook.