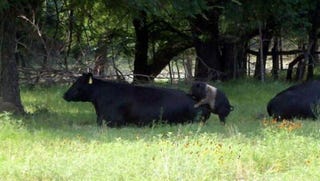 I have no idea if this will actually work, but if it does make babies, I want to eat them.
Happy Veteran's Day! Happy end of the PSU-work-week! Here's a pig fucking a cow.
Determined little porker, stoic heifer too: This photo is one of those magical products of the Internet that's gotten passed around so much, I have no idea who to credit for this. That's OK: it belongs to all of us now. Sports takeaway: if Arkansas plays Texas in a Bowl game, I think we know who'll come out on top.
•••••
So...this was a week that happened. Tomorrow should be some sort of cleansing crescendo, so come back around noon for the fun. Hell, come back earlier: The Burke/Newell connection will be here all weekend.