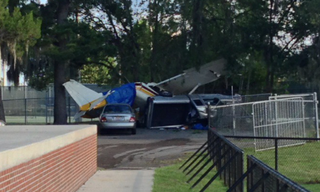 Around 4:00 pm this afternoon, a plane carrying an advertisement for Geico Insurance McDonald's crashed on an unoccupied car in Flavet Field, an open field at the University of Florida that, from the look of it, serves as a tailgating site for Florida games. The Gators are playing the Arkansas Razorbacks tonight at 7:00 pm, so there were plenty of people to witness the mayhem.


Multiple witnesses at the scene say the crash was quiet, likely indicating a low fuel issue. After the crash, all were reported safe, including the pilot.
The pilot and another passenger were ejected and taken to a local hospital. And then things got back to normal.
Image via
GEICO Banner Plane Crashes At UF's Flavet Field Before Arkansas Game [WUFT]