During yesterday's edition of Barstool Radio, a show enjoyed exclusively by Deloitte interns who wish they were still in college, Barstool Sports founder Dave Portnoy said that one of his employees, 20-year-old Ria Ciuffo, would be too ugly to continue as an on-camera personality in five years. "She's not going to be able to put her face in front of a camera in five years, because people will throw up," he said.

The best sports movies according to Toheeb Jimoh
Later in the segment, Ciuffo came on air to confront Portnoy about what he'd said. What ensued was a painful conversation in which Portnoy doubled down on his comments and refused to apologize. The confrontation ended with Ciuffo leaving the booth, apparently in tears:
Untitled Session 1_mixdown
"I will not apologize," said Portnoy. "There is no apology coming for that." He justified his comments by pointing out that he had said similar things about the appearance of a male Barstool employee, Henry Lockwood.
"That's so different than saying in five years people won't even want to look at me on camera," said Ciuffo. "When we're talking about jobs, and I work on camera and you're saying in five years I won't even be able to have a job... I want to be working here in five years. I want to be on camera. I want to stay here."
"Well maybe you'll have to go behind the camera," Portnoy responded. "Welcome to Barstool Radio, Ria."
G/O Media may get a commission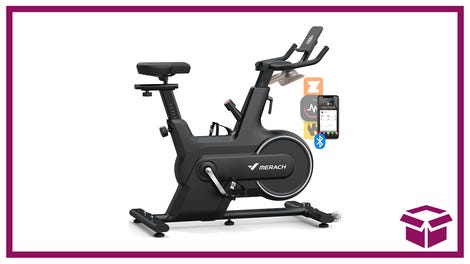 14% off + Coupon
Merach Indoor Cycling Bike
At this point Ciuffo seemed to choke up and left the room, and Portnoy's co-hosts, Kevin Clancy and Liz Gonzales, chided him for not apologizing. Portnoy reacted angrily: "Honestly, if you're gonna cry, then walk your fucking ass out the door. I don't give a fuck about that, and I'll double down on that. You want to stare at me, Liz? I don't give a fuck. That's how we built this company. So you want guys and girls to be treated the same? They are."