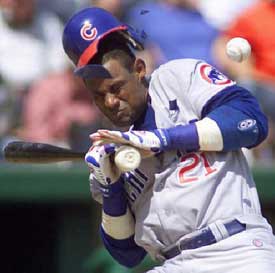 As the last smidgen of interleague play fades from our consciousness — and we'll never forget that magical June of 2007! — we lament, for a moment, that tonight's Rangers-Cubs game will be played in Arlington rather than at Wrigley. We would love to see how Sammy Sosa's homecoming to the Friendly Confines would have went.
In general, we remain confused how to respond to Sosa's quixotic comeback and "drive" for 600 homers. Mark McGwire retired, vanished, and we were all had to deal with what was left in his wake. Barry Bonds keeps hitting eff-you homers and confronts us, daring us to doubt him. But Sammy just plods along, quieter, meeker, happy to be playing the game but still probably pretty much an asshole. One of the three biggest names in the whole steroid mess, remaining out there, plugging away, about to hit a 600th homer than hardly anyone will notice. How Sosa continues to dance between the raindrops is beyond us.
Anyway, yeah: It would have been nice to see how Cubs fans would have treated him. Oh well.
And We Meet Again ... [The Cobra Brigade]
Lonely 600 [Uwe Blog]