For the third consecutive season, we are proud to introduce the Deadspin Baseball Season Previews. Yes, baseball is awfully close now; it's spring training, after all.
Every weekday until the start of the season, a different writer will preview his/her team. We asked a gaggle of writers, from the Web, from print, from books, to tell us, in as many or as little words as they need, Where Their Team Stands. This is not meant to be factual, or dispassionate, or even logical: We just asked them to riff on why they love their team so much, or what their team means to them, or whatever.
Today: The Colorado Rockies. Your author is Mark T.R. Donohue.
Mark T.R. Donohue is a freelance writer, serial blogger, and member in good standing of the Baseball Toaster cartel. He lives in Boulder, Col. His words are after the jump.
—————————-
How do you top 2007, if you're the Colorado Rockies? It can't be done! At the end of the season last year, Colorado ran off an utterly ludicrous fourteen wins in fifteen games, including a thirteen-inning 9-8 win over the Padres in a one-game wild card tiebreaker, to make the playoffs for the first time since the strike-shortened 1995 season and only the second time ever. The otherworldly hot streak continued through the National League playoffs, in which Colorado dropped nary a game to Philadelphia nor Arizona, and stopped only when the Rockies met reality — and a much, much better team — on a grand stage in the franchise's first World Series appearance. That didn't go as well.
G/O Media may get a commission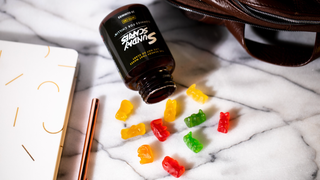 10mg CBD Gummies (22-Count)
The good news for 2008 is that the Rockies weren't a .500 team that got lucky last year. Up until mid-September they had gotten some bad breaks; we few true believers chose to view their white-hot finish as an overdue correction. Even supposing that the
Rockies' opponents down the stretch were laying over for them and the stats don't mean what they think we do, the Rockies' pitching rotation turned over 60% of its players in quick succession shortly after the All-Star break. Ubaldo Jimenez and Franklin Morales, the two call-ups that made up the bulk of those innings lost due to injuries to Rodrigo Lopez, Jason Hirsh and Aaron Cook, still have less than a year of major-league experience between them. They should be better this year.
Everyone but second baseman Kazuo Matsui returns to a lineup that's long on pre-peak players; second-year shortstop Troy Tulowitzki is poised to bring his hitting numbers up to the level of his already unparalleled defense. The one nasty storm cloud on the Rockies' horizon, the impending free agency of outfielder and offensive linchpin Matt Holliday, has been at the very least pushed further away by the two-year deal Holliday signed this winter.
Besides Holliday, there are hardly any key Rockies players that won't be around for at least three more seasons, including Tulowitzki, ace Jeff Francis, closer Manny Corpas and outfielder Brad Hawpe. One of the few positions that GM Dan O'Dowd hasn't found a solution for in the draft is catcher; the Rockies caught a break when the Mets backed away from a deal they'd worked out with incumbent Colorado catcher Yorvit Torrealba. O'Dowd managed to get Torrealba back at the right price; that was the highlight of a very quiet offseason that also brought in some bullpen help (Luis Vizcaino, Jose Capellan), a few guys to compete for the second base job (Matt Kata and Marcus Giles, though rookie Jayson Nix will get some looks too), and a bunch of veteran starters to provide insurance for the boatload of injuries the oxygen-deprived Rockies rotation seems to suffer every year (including but not limited to Josh Towers, Kip Wells and Victor Zambrano).
Colorado is probably going to be a stronger team than they were last season, and yet they will likely win fewer games. Los Angeles and Arizona have improved, and the Rockies more than likely won't have the same luck they had in interleague play '07 (10-8, the only team in the NL with double-digit wins and the only one more than a game over .500). The hope here is that even if a whole season hanging around in contention ends in disappointment, the Rockies and the city of Denver get the one thing they didn't get last year — being taken seriously. The magical September '07 run did a lot to shake Denver out of the indifferent attitude it's had towards baseball and the Rockies since the late 90's, but it takes more than one postseason to build a baseball fan. Baseball is about the long haul and until fans in the mountains are checking box scores with the same vigilance in May as they were last September, the Colorado Rockies remain just another ill-justified expansion team with ugly uniform colors.