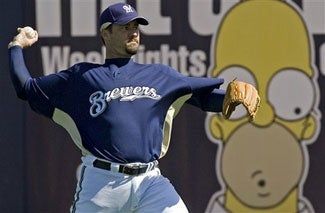 You might remember, from back at the beginning of the NFL season, when we previewed each team by having a writer we liked write about their favorite team.
Well, we're just more than a month away from the start of baseball — spring training is here! — so it's time to do the same thing in the baseball world. Every weekday until the start of the season, a different writer will preview his/her team. We asked a gaggle of writers, from the Web, from print, from books, to tell us, in as many or as little words as they need, Where Their Team Stands. This is not meant to be factual, or dispassionate, or even logical: We just asked them to riff on why they love their team so much, or what their team means to them, or whatever.
Today: The Milwaukee Brewers. Your author is Dan Kois.
Dan Kois writes for Slate, among other magazines, on pretty much any topic he can think of. His words are after the jump.
———————————-
Bloggers galore, newspapers, even the manager and the owner all agree that 2007 is a pivotal year for the Milwaukee Brewers. Most of this is the usual smoke-blowing (on the part of the team, at least), but with team payroll increased to nearly $70 million (from last year's $54 million), hopes are high that the team could be competitive for a playoff spot in the NL Central. If they do make the playoffs, it would be the first time in 25 years.
They won't make the playoffs, of course. It doesn't matter that the team picked up starter Jeff Suppan from the Cards, or that they've moved young star Bill Hall to center field to make room for promising J.J. Hardy at short, or that ace Ben Sheets is healthy for the first time in three years, or that first baseman Prince Fielder has a sweet uppercut home run stroke not unlike his dad's.
They won't make the playoffs because the 2007 Brewers lack the most important feature necessary for a baseball team to be successful in Milwaukee. They lack the one thing the Brewers teams of the 1980s had in spades.
The 2007 Brewers lack mustaches.
The 1980s, of course, were the Golden Age of Baseball Mustaches, and the Brewers led the charge:
Top row: Yount, Caldwell, Cooper, Thomas
Middle: Fingers, Gantner, Haas, Vuckovich
Bottom: Hisle, McClure, Moore, Sveum
Now those were some mustaches you could set your watch to. The 1982 team was particularly loaded with stachitude — all the team's stars featured unruly facial hair, save for Paul Molitor, who presumably kept his upper lip clean to facilitate his cocaine use — and that team is widely considered one of the best teams ever to lose the World Series. (They lost in seven to a Cardinals team populated — and cheered for — exclusively by rotten bastards.) (Ed. Note: And sweet six-year-old Midwestern boys.)
That '82 team, as I remember them — and as they're described by Roger Angell in his New Yorker profile of the team (collected in his book Game Time) — had a certain drunken charm and camaraderie that subsequent Brew Crews have lacked. That year's manager, Harvey Kuenn, lived in the back of a Milwaukee tavern run by him and his wife, and it's easy to imagine the team assembling there for boozy parties long into the night. Their mustaches dripping with foamy suds, the team would talk strategy and play euchre until dawn, breaking only to piss off an I-94 overpass. The epitome of that team was slugging CF Gorman Thomas, who in 1982 led the league in homers, cigars and chicks with bad hair:
from the Milwaukee Journal Sentinel archives
It's hard to imagine the 2007 team, as promising as they may be, taking up the banner of the mustache the way those Brewers of 1982 did. The team's manager, Ned Yost, was a member of the 1982 team — but was distressingly clean-shaven. Two players who in ordinary circumstances might be blue-collar favorites, Kevin Mench and Geoff Jenkins, are whining about Yost's obviously good idea to platoon them in left field. Another, third baseman Corey Koskie, told the Milwaukee Journal Sentinel that he was so addled last season from post-concussion syndrome that he frequently knocked the salt shaker off the table while reaching for a glass. Walking through a doorway was a real struggle, as he tended to smack into the frame. One can imagine such accidents befalling '82 Brewers like Moose Haas, but, uh, not because of post-concussion syndrome.
There is one member of the 2007 Brewers who has real potential. Derrick Turnbow, who crashed and burned as the team's closer last season before being replaced by Francisco Cordero, has the kind of unformed, doughy visage that cries out, that veritably weeps, for a huge, bushy mustache: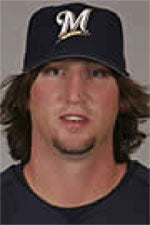 Sprout a fat set of handlebars on that baby face, Derrick, and maybe then we'll talk playoffs.