For the third consecutive season, we are proud to introduce the Deadspin Baseball Season Previews. Yes, baseball is awfully close now; it's spring training, after all.
Every weekday until the start of the season, a different writer will preview his/her team. We asked a gaggle of writers, from the Web, from print, from books, to tell us, in as many or as little words as they need, Where Their Team Stands. This is not meant to be factual, or dispassionate, or even logical: We just asked them to riff on why they love their team so much, or what their team means to them, or whatever.
Today: The Milwaukee Brewers. Your author is Dan Kois.
Dan Kois edits Vulture, New York magazine's arts and culture blog. He maintains that the Brewers would have won it all last year if they'd only grown a few more mustaches. His words are after the jump.
————————————
What's going on? Ned Yost here. I'm the manager of the Milwaukee Fucking Brewers. You may remember us as the team that hadn't made the playoffs for 25 years, and a lot of people thought we would make it last year, but we didn't. We led the NL Central almost wire to wire, but blew it in the end. Why? Well, there's a lot of reasons.
G/O Media may get a commission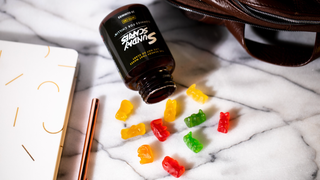 10mg CBD Gummies (22-Count)
The fact is, it's mostly our fans' fault that we couldn't pull the division out. Our team is young, and the fans put a lot of pressure on the players to do things they're just not capable of doing. For instance, the fans really get on Derrick Turnbow over simple things like ever throwing strikes. As I've said before, I wish everyone would just leave the kid alone.
If it isn't our fans' fault, it's definitely Bill Hall's fault. All I asked that kid to do was switch from the infield to center field, then benched him twice when he was hitting poorly. Then platooned him. Then benched him for a month. You know what I always say: team MVP in 2006? I don't give two fucks. What have you done for me lately, besides switching positions and playing hurt?
It if isn't Bill Hall's fault, it's definitely the bullpen's fault. All I did was demand they pitch three or more innings nearly every game, no matter what, and how did they repay me? By blowing a lead dozens of times over the course of the season, and completely falling apart by season's end.
If it isn't the bullpen's fault, it's definitely the umpires' fault. They're the ones who threw me out of games three times in the season's final week. Oh, and Tony La Russa's fault. He's the one who had his pitcher bean Prince Fielder in a critical game, causing me to order a hit on Albert Pujols with us trailing in the eighth inning. How was I supposed to know that the pitcher I put in afterwards, Derrick Turnbow, would be unable to put the ball over the plate? I'd do it again if I had to. I'll do anything for my players. Anything. Also, Derrick Turnbow is a fucking jerk for not throwing strikes.
At any rate, things look good for this season. We made some big-deal free agent signings — Mike Cameron and Eric Gagne. Sure, Cameron is missing the first 25 games of the season for popping greenies, and Gagne's inclusion in the Mitchell Report explains why he has kind of sucked the past few years. We also traded our starting catcher for Guillermo Mota, who pitched terribly for the Mets last season once he finished his 50-game suspension for substance abuse. But I'm pleased with all three guys, and I'll tell you why. We need some fucking tough guys on this team, and I when I think tough guys, I think drug abusers. Who was better than Paul Molitor on those early-80s Brewers teams I used to play on? Nobody, and that muhfucker was higher than a kite every day he took the field!
It's clear that the fans and the management in Milwaukee have my back this year. Hardly anyone wrote articles blaming me for our collapse last year. The general manager gave me a vote of confidence by hiring Ted Simmons, a more experienced version of me — in fact, the guy who taught me everything I know — to be bench coach. And I've got a steady stock of Robert E. Lee quotes to get me through the season. The fact is, our bullpen could blow a hundred games this year and we'd still win the division. We still have math on our side.