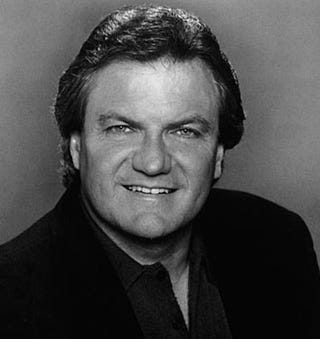 Imagine if Mike Francesa just walked into WFAN one morning for work, ready to start his regular shift, and management hauled him into an office, told him he was being fired, gave him 100 pages of paperwork, and said he had minutes—not hours—to clean out his desk and leave. Twenty minutes after that, sitting in his car and trying to check his work voicemail, he discovers that his access has been disconnected.
That's basically what happened to KNBR's Ralph Barbieri this past Tuesday. A Bay Area sports radio icon since 1984, Barbieri was the region's Francesa, except that he was respected and hadn't morphed into a self-parody of sports radio writ large. For the last 15 years, he hosted the drive-time sports talk show "The Razor & Mr. T" with former Golden State Warrior Tom Tolbert.
No one knows why Barbieri was let go. His contract wasn't up for a few months. He hadn't been arrested for DUI or committed any other public embarrassment. He didn't refer to NFL players as "monkeys." He didn't refer to a female TV analyst as "a Sasquatch of a woman." He didn't wear an A's hat to the Giants' Media Day (or anything akin to that). He was simply fired.
KNBR, weirdly enough, hasn't shied away from the firestorm. The station posted a link to the audio of Tolbert's segment on both its Facebook and Twitter accounts. What could further complicate matters, in a legal sense, is Barbieri's confession last October that he had been suffering from Parkinson's for six years and told no one at KNBR except Tolbert:
"All the medical and psychological and philosophical people told me I should not keep it a secret," Barbieri said. "But all the business people and pragmatists said it would be professional suicide, I'd be crazy to let anyone know. I never got past the risk of losing the job and not being able to support [my son] Tayte."
KNBR even let Tolbert devote the entire opening segment of yesterday's show to Barbieri and his sudden absence, nearly coming to tears several times.
Barbieri personally reached out to several Bay Area media outlets to give his side of the story. Here's what he told the San Francisco Chronicle:
First of all I want to say that I was flattered and humbled by what Tom had to say at the beginning of the show today.

I've never seen him anywhere close to that emotional and I was genuinely touched by his words. At this point, all that I can say - cliche-ish though it may be - is that I'm weighing my options, which are considerable, before I want to say anything further.

I've heard it said that this was an amicable parting. That is not exactly the case. I came to work (Tuesday) morning, totally unaware that anything of this nature was afoot, especially since my contract didn't end until Nov. 1.

As soon as I walked in, I was told that the General Manager wanted to see me. I went into his office. He and the program director were there. I was told that I was being terminated and that today, April 10, would be my last day at KNBR.

They presented me with about 100 pages of legal documents and told me to get to them after I had read them. I was told to gather my belongings and turn in my card key, at which point I was "escorted" out of the building by a KNBR management person.

The whole process took about 7 minutes. Twenty-eight years and change at KNBR they had neatly wrapped up for me in 7 minutes. Let's see: Four years for every minute. You got to admit that's pretty darn time efficient - not to mention incredibly classy. Oh, and when I got to my car and tried to access my voicemail, which contained about 20 messages, I found that the station had cut off access to my voicemail. I'll have more to say later.
Ralph Barbieri let go by KNBR [San Jose Mercury News]