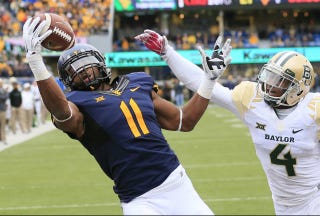 The fourth-ranked Baylor Bears will experience a tumble down the rankings after losing in Morgantown to the West Virginia Mountaineers. The Bears will be shooting up the national penalty rankings, though.
The final numbers: 32 total penalties in the game; just four short of the all-time record. Eighteen of those penalties were Baylor's. West Virginia lost 138 yards in penalties, but that was small change compared to Baylor's 185. That's an overage of over 8 yards per penalty, so there weren't just a lot of them, they were big ones.
That happened in the third quarter. Baylor still had a whole one-fourth of the game to commit more penalties, but they abandoned their gameplan.
You may be tempted to blame this on undisciplined, penalty-prone players, but hold that thought. At one point, Mike Pereira, Fox's official in the studio, was actually holding up a rulebook while chastising the officials for reviewing a play that was not reviewable.
Pereira wasn't done with them, either. At the end of the first half, West Virginia kicker Josh Lambert hit a 54-yarder, but Baylor was called for an illegal leaping attempt to block. They announced that the penalty was to be enforced at the start of the second half ... and then they just forgot about it.
So yeah, these officials, on this day, were flag-happy garbage.
None of this is meant to insinuate that Baylor was robbed or wronged here. They lost by two touchdowns, and there was nothing egregiously imbalanced. The only people who were wronged were the innocent fans who saw an otherwise exciting football game dragged into a four-hour affair.
[Photo credit: AP]