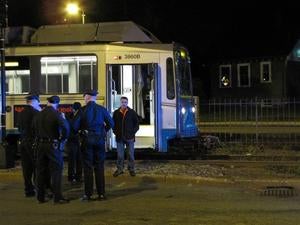 College students drink like no other humans. Hockey players drink like no other athletes. And Boston College's NCAA-winning hockey team? Well, they must drink like champions, because they had a fender bender with mass transit.
Saturday, after a rousing night out at Applebee's (yup), a group of BC freshmen piled in to a Jeep to head back to campus. Perhaps missing their street, they pulled a U-turn on Commonwealth Avenue — right in front of an oncoming Green Line trolley.
There were eight of them in the Jeep, showing that phone booth stuffing could be coming back into vogue on college campuses. Among them, goalie Parker Milner and defensemen Philip Samuelsson and Patrick Wey. The group was seen throwing bottles of beer and vodka from the vehicle, so seven of them have been charged with underage possession of alcohol. All of them except the driver, actually.[UPDATE: Nope. She's been charged too.] Designated drivers, always a good decision!
Milner fled the scene, but goalies aren't particularly fleet of foot. And Samuelsson is the son of former NHLer Ulf Samuelsson, so police are working under the assumption that there was no car accident, he just body checked the trolley.
BC hockey players face alcohol charges after Green Line collision [Boston Globe]