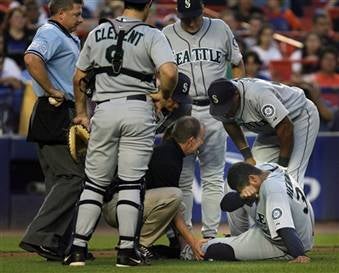 Ha! Take that Hank Steinbrenner, you big dolt. Pitchers shouldn't hit? Felix Hernandez hit the first grand slam by an American League pitcher in 37 years, leading the Mariners over the Mets 5-2 on Monday night. Hernandez did get hurt; but not running the bases, as Steinbrenner imagines in his sweaty night terrors. He was hurt covering the plate in the fifth, and was removed before he could earn a decision. Oh Mets, what will you think of next?
How rare was Hernandez' slam? He says it was his first home run since Little League; which I guess they have in Venezuela? And did I mention that it came off of Johan Santana? (the grand slam, not the Little League homer).
"My approach? Just swing. I closed my eyes," said Hernandez. "I was happy and I was thinking that's all I need — four runs."
More fun facts: It was the first home run by a pitcher in Mariners history, and the first grand slam by an AL pitcher since Cleveland's Steve Dunning did it against Oakland's Diego Segui on May 11, 1971, according to the Elias Sports Bureau. Hernandez sprained his left ankle while covering home plate on a run-scoring wild pitch. Carlos Beltran slid hard into his feet, and caught him with his spikes. X-Rays were negative and Hernandez should make his next start.
• Snakes ... Why'd It Have To Be, Snakes? Arizona's Dan Haren won his duel with Josh Beckett, throwing seven shutout innings and striking out five to win his fifth straight start, 2-1 over Boston. Chris Young's double and Chris Snyder's groundout each brought in a run for the Diamondbacks.
• Expect A Beanball War! Don't forget that the Yankees play in Pittsburgh tonight for the first time since the 1960 World Series, and Bill Mazeroski will be throwing out the first pitch. Very cool.
• Wizard Cat Defensive Player Of The Day. Dan Haren, Arizona Diamondbacks. Using catlike reflexes — rare for a pitcher — Haren serves notice to Boston's Coco Crisp not to attempt a bunt in his jurisdiction. Of course he enjoys the luxurious feel of the lawn a little too long, and cannot double off the runner at second. Oh well, Wizard Cat still gives this play: Four wands.
Contact Wizard Cat at Wizardcat@live.com