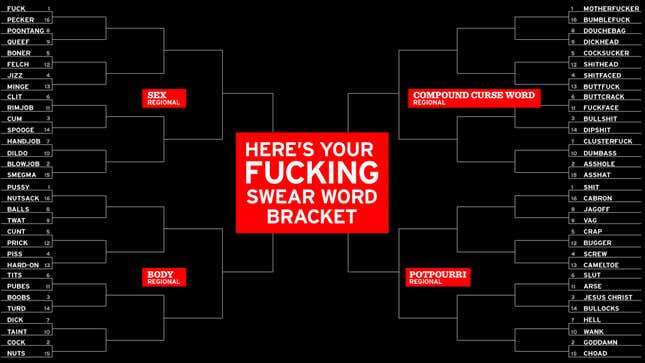 Swearing is important and cathartic and fun and totally makes you seem hip and edgy when you do it. There's a whole lot of hot, sweaty NCAA tournament action coming up this week, which means there will be plenty of FUCKS and SHITS and GODDAMN MOTHERFUCKERS blurted out across the country as bracket after bracket gets cruelly busted by that one team that you didn't even consider would go on a run that ends up going on a goddamn run (curse you, Colorado State). Thus, it's the perfect time to unveil our 64-expletive curse word bracket to determine the finest curse word of all time. Now, a couple of things you should know about this bracket:
We did not include identity-related epithets. Obviously, we left out all those naughty words because we didn't want people actively cheering for wop, dyke, and all the rest. I omit these words with a touch of remorse, as they would have made the field of 64 a lot more competitive. A final of FUCK vs. the n-word—a battle between the most popular swear word ever and the single-most destructive word in the English language—would have been one of the more fascinating linguistic matchups ever. But hey, that's the way it goes. We still have QUEEF in there.
Words have been separated into four region: SEX, BODY, COMPOUND SWEAR WORDS, AND POTPOURRI. As you'll quickly notice, the BODY region is stacked. The top seed, PUSSY, won't get out of there without a lot of work.
Your four No. 1 seeds are FUCK, SHIT, PUSSY, and MOTHERFUCKER.
There are not 68 entrants in the bracket because 68-team brackets are stupid.
Here are your full seedings, with the bracket by Jim Cooke above:
SEX REGION
Fuck
Blowjob
Cum
Jizz
Boner
Clit
Handjob
Poontang
Queef
Dildo
Rimjob
Feltch
Minge
Spooge
Smegma
Pecker
BODY REGION
Pussy
Cock
Boobs
Piss
Cunt
Tits
Dick
Balls
Twat
Taint
Pubes
Prick
Hard-on
Turd
Nuts
Nutsack
COMPOUND CURSE WORD REGION
Motherfucker
Asshole
Bullshit
Shitfaced
Cocksucker
Buttcrack
Clusterfuck
Douchebag
Dickhead
Dumbass
Fuckface
Shithead
Buttfuck
Dipshit
Asshat
Bumblefuck
POTPOURRI REGION
Shit
Goddamn
Jesus Christ
Screw
Crap
Slut
Hell
Jagoff
Vag
Wank
Arse
Bugger
Cameltoe
Bollocks
Choad
Cabron
Go ahead and vote in the first two regionals of first round below. You've got until Thursday at noon before we tabulate winners and move on to the next batch. Before too long, it'll be the Sweet Fucking Sixteen. So get voting. And use Kinja below if you want to complain about "Fucktaster" being left out. Enjoy, you heathens.
How running an NFL team is like running a restaurant | Chef Emeril Lagasse
Sex Region
Body Region