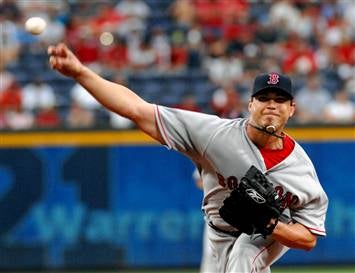 Notes from a day in baseball:
• By Grabthar's Hammer, By The Suns Of Warvan, You Shall Be Avenged! Bouncing back from his worst slump of the season — one loss — Josh Beckett pitched six scoreless innings and had a run-scoring double as the Red Sox beat the Braves 4-0. At a time when big-name hurlers are going down like Glass Joe, Beckett (10-1) is a true workhorse. Of course your horse doesn't like to work in the rain; Beckett didn't return after a 48-minute rain delay Tuesday, letting three relievers finish up a five-hitter. John Lackey of the Angels also has 10 wins. And hey, no errors for Manny Ramirez! We think we know why.
• Uncle Junior Does It Again. There are some who are rooting for Ken Griffey Jr. to get his 600th homer before Sammy Sosa does, and even though Sosa is a lot closer, it just may happen. Griffey hit his 582nd career homer and 19th of the season, leading the Reds over the Athletics 5-2. It was also Griffey's 1,652nd career RBI, tying him with Tony Perez for 18th on the all-time list. Griffey makes his first appearance in Seattle this weekend since leaving the Mariners after the 1999 season, barring injury, of course ... ow! My hair!
• And Speaking Of Corky ... Sammy Sosa, playing against the Chicago Cubs for the first time in his career (technically), was 0-for-4 with three strikeouts during the Rangers' 5-4 loss. He remained one home run short of 600.
• Your Dan Uggla Update For Today. Dan Uggla's ninth-inning, broken-bat homer (yep) sent the Marlins to a 7-5 win over the White Sox. But Florida lost pitcher Dontrelle Willis after one inning with stiffness in his forearm.
• Make It Rain. Ryan Howard's 451-foot homer and four RBI led the Fightn' Phillies over the Cleveland Politcallly Incorrects, 9-6. It was Kyle Kendrick's first major league victory, which we will now celebrate with this cake.